On Thursday, the Santa Clara Valley Transportation Authority (VTA) Board of Directors will vote on the final version of their "Next Network" transit service restructuring proposal.
TIME & DATE: Thursday, May 4 @ 5:30pm
PLACE: County Supervisors' Chambers, Santa Clara Co. Government Center, 70 W. Hedding St., San Jose
GETTING THERE: VTA's 61, 62, 66 & 181 express bus lines, and VTA light rail, stop one (1) block south of County Government Center, at Civic Center light rail station.
Details on the vote – and how YOU can influence the VTA Board of Directors before Thursday – are below.
What the "Next Network" From VTA Is About
VTA's "Next Network" restructures the bus and light rail system in Santa Clara County to operate more on a "grid" structure.  This includes the introduction of two (2) new Rapid bus lines – the 523 along Stevens Creek Boulevard, and the 500 linking San Jose Diridon Station with the new Berryessa BART Station.
What Our Group Found and Discussed With VTA
Within the last year that VTA had proposed this plan, we encourage people to contact VTA directly about their concerns.  We made a special point to have people talk to VTA if they voted for Measure B last November, hoping for improved transit service.  In addition, in February, our group sent a letter to VTA with suggestions and concerns regarding the proposal.
At our last group meeting on April 19, we discussed our concerns with Teresa O'Neill, who sits on the VTA's Board Of Directors, via teleconference call.  Hear what she had to say to our group regarding our "Next Network" concerns below.
Other Things We Found in the "Next Network" Final Report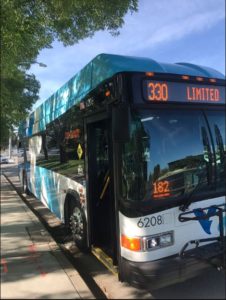 Kudos go to those who helped preserve VTA bus service in Almaden Valley and in Palo Alto.  There are plans for something in Palo Alto to work with VTA on preserving service to and from Gunn High School.
In the South County, Gilroy is set to lose half of its current bus service coverage, with VTA proposes replacing three bus lines with one (the 96) that will loop around town and cover most, but not all of the bus stops.  According to the Gilroy Dispatch, only twelve (12) people showed up to the VTA meetings in Gilroy earlier this year to discuss the proposed changes.
Also, VTA proposes elimination of express bus lines to and from Fremont BART station like the 120, 140, 180, and 181, replacing them with BART service south to the new Berryessa station.  In addition, VTA also proposes to eliminate limited stop bus lines like the 328 and 330 that run on Lawrence and San Tomas Expressways, respectively, due to "low ridership."  As reports of gridlock along the County's expressways increase, it disturbs us that VTA proposes to eliminate the only alternatives to such gridlock.
Some History Of VTA's Bus Service Reductions
vta bus ridership from 1990-2015

The PDF chart above shows a history of VTA's bus service reductions and increases since 1990.  As the PDF chart shows, since 1990, three bus service cuts and a system-wide restructuring all tried to follow a philosophy of increasing overall ridership.  None of them achieved their ridership goals.
Contradicting Conclusions On VTA's "Next Network" Proposal
According to staff reports on VTA's "Next Network" proposal, the following ridership increases are projected
A 15 to 20 percent increase in light rail ridership.  This is driven by the addition of the Orange Light Rail Line which connects Downtown Mountain View with the Milpitas BART Station and Alum Rock Transit Center at 15-minute all day service.
An 8 to 10 percent increase in bus ridership.  This is due to the increase in frequent, all-day services, the restructuring of VTA's network to an interconnected grid and the new connection to BART service.
Meanwhile, VTA's Title VI Equity Analysis of the proposal contradicts their staff's conclusion:
Based on the Remix data, the final Next Network service plan will result in a reduction of approximately 519 million People Trips annually. This represents a little less than a 2% reduction (-1.70%).  It should be noted that this magnitude of change falls well below the margin of error.  Additionally, though the BART extension will increase access to jobs and residents, the analysis methodology shows a decrease in people trips because of two factors:
the increase in service to the areas surrounding the two BART stations means few new people trips because the station areas were sparsely-populated per the 2009-2013 Census data, and

the service provided by the BART extension itself, including connections throughout the entire BART system, are not reflected because the extension will not be operated directly by VTA.
As follow-up to our April 19 conference call, we wrote Ms. O'Neill with these concerns.  At this time, we have not received a response from her or VTA regarding these contradicting findings.
Conclusion
From what we have seen in the proposal, VTA is betting heavily on ridership from the BART extension into Berryessa to increase overall bus and light rail ridership.  Given that VTA will not have any control for the amount and frequency of BART service to and from Berryessa, and given its own history of eliminating service on "low-productivity" routes, we have strong doubts the ridership increases stated by staff will come to fruition.
Currently, VTA operates 1/3 less bus service than it promised to voters as part of Measure A in 2000.  Worse, VTA offers less bus service now than it did in 1990, despite over 20% increase in population in Santa Clara County from 1990 until now.
Given that over 5,000 people submitted input to VTA's "Next Network" proposal in the last year the proposal was drafted, it must be asked:  when will the VTA Board of Directors prioritize increasing bus service back to levels last seen in 2000?  What must happen for that change in priorities to happen?  As a second step, VTA must increase all bus service to address the 20% population growth seen in Santa Clara County since 1990.  This is especially needed, given growth of jobs and affordable housing in areas like Palo Alto, South San Jose, and the South County area  Our group finds it troubling that we voted to tax ourselves over 1.5 cents on the dollar in sales taxes for bus and light rail service, only to have the bus service continue to be cut every few years.  This is unacceptable and must change now.
While it is great that VTA has worked with the community to preserve bus service in Almaden Valley, it must do better.  One start to that better: working with cities to provide funding and/or infrastructure to fill gaps in service where needed.  An example of this: VTA should work with the City of Palo Alto to provide funding for local shuttle buses.  Such shuttle buses would cover service cuts VTA has proposed.
What Can I Do?
If you have not done so already, contact the VTA Board of Directors for your city or town in Santa Clara County.  Let him or her know your feelings on the "Next Network" proposal.  Demand that VTA implement a plan to increase bus service in Santa Clara County now.  This is especially true if you voted for Measure B last November hoping for more transit service, only to have that service proposed to be eliminated.
See you this Thursday as we fight for better public transit in Santa Clara County.
Eugene Bradley
Founder, Silicon Valley Transit Users