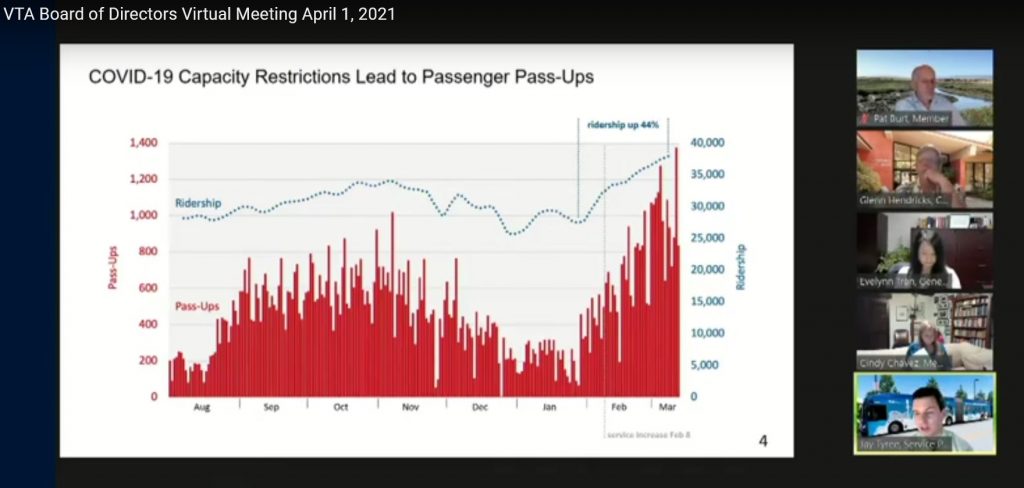 Tried to take a Santa Clara Valley Transportation Authority (VTA) lately? Ever been left stranded due to the bus being at its safe capacity limits? You're not alone. The chart above shows nearly 1,400 riders per day are stranded by full VTA buses who pass them. That's enough to fill two sections of the where the Sharks, 49ers, or Earthquakes play at. Bus lines like the 22, 25, 66, and 68 are just some examples where we've read reports of riders left stranded.
VTA has the money, courtesy of the Federal government, to fix this NOW. They also have the money to help improve safety on its bus and light rail fleet NOW. Here's details on how YOU, me, and our fellow riders can make VTA make it happen…
Table of Contents
What Is VTA Doing About This?
VTA held two public hearings to discuss their Fiscal Year 2022-2023 budget proposal. The first was on April 21; the other was on April 27. The hearings were an opportunity for everyone (to learn about VTA's proposed transit budget, ask questions, and make suggestions.
Back in March, VTA received nearly $40 million from the second distribution of federal Coronavirus Response and Relief Appropriations Act (CRRSAA) funding. This on top of the $95 million they received previously.
Here is what VTA plans on doing with that money…
In other words, what VTA plans to do with the $135 million in Cares Act funding they have accumulated so far:
2022: $6.9M
2023: $14.3M
2024: $18.4M
2025: $16.8M
2026: $22.2M
2027: $27.3M
2028: $33.3M
Total:$139.2M
Clearly, this is not enough to restore bus and light rail service to pre-pandemic levels NOW. (Service is currently running at about 80% of what it was in December 2019, before the COVID-19 pandemic.) This fails to give those left stranded the VTA bus ride they pay sales taxes and fares for. Also, it does nothing to provide other COVID safety measures such as improved ventilation aboard buses and light rail – what other transit agencies have done for years. This must change NOW. Especially when the VTA Board of Directors will vote on the final budget on June 3.
We know of no other transit agency in the United States with a similar budget proposal. We are researching the legality of VTA's plan for use of this federal COVID Relief Act funding spread out over several years. Please let us know of any public transit agency in the United States doing something like this.
The next section below details how YOU can help tell VTA management directly to stop leaving you stranded at the bus stop.
How To Tell VTA To Stop Leaving You Stranded
This Thursday (May 6) at 5:30pm, the VTA Board Of Directors will discuss further their proposed Fiscal Year 2022-2023 budget. Join us during item 8.1a and make a 1-minute public comment urging the VTA to restore bus and light rail service NOW so that nearly 1,400 riders aren't left stranded every day.
Get involved and speak up at Thursday's VTA Board meeting by Zoom video conference, You can also dial in via telephone at 1(669)219-2599 or 1(669)900-9128. (669 is an area code that overlaps 408.)
Enter Meeting ID: 813 0664 8653 (if/when prompted).
Follow these instructions for taking part and speaking up at Thursday's VTA Board meeting.
Sign up to speak here and we will send you all of the info and a text alert when the item is up.
Can't make Thursday evening's VTA Board meeting? Call or email the VTA Board member representing where YOU live. Let that person know
who you are, where you live, and which VTA bus line(s) or light rail you ride
how often you have been left stranded by VTA buses or light rail that are full
how they must have VTA restore bus and light rail service to pre-pandemic levels NOW
how they must have VTA need to make their buses safer and more comfortable NOW.
Talking Points For the VTA Board
Here are some other talking points you can use, when talking to the VTA Board member representing YOU:
VTA budget experts prefer postponing investment of federal funds, based on the assumption that they will be needed in the future. This view not only ignores the current hardships experienced by riders who are passed up. It also ignores the likelihood that ridership/fare revenue will not increase during the coming years, unless service meets the mobility needs of people who still have the option to opt in.
As our economy recovers from the pandemic, every rider VTA leaves stranded cannot get vaccinated, nor get to work on time. This is a poor image for VTA. Their inaction and budget proposal sends a message they are unprepared for when California fully reopens to business, possibly as soon as June 15.
VTA leaving riders stranded and late for work puts them in jeopardy of being docked pay or fired for excessive tardiness. Given how expensive it already is to live in Silicon Valley, VTA's inaction and proposed budget puts stranded riders on the road to homelessness. Thus, further exacerbating the Valley's homeless crisis.
Service needs to be faster, more reliable, more efficient, and more comfortable. It has to be clean and safe for all riders, including the most vulnerable. If the VTA doesn't invest now in upgrading its service, ridership/fare revenue will likely not increase during the coming years; many of those current low-income riders who cannot afford car expenses, will have no choice but to buy a car anyway, so they won't lose their jobs. And those who care about carbon emissions but do have a choice, will continue to opt out.
To keep riders safe aboard buses and light rail, VTA must also implement improved ventilation aboard its buses and light rail. One such study reported here shows airborne circulation distributes COVID more effectively than surface contact. VTA was already cited $16,500 by Cal-OSHA for health and safety violations in March. Last June, VTA demonstrated technologies such as UV lights to keep riders safe. No one will want to ride VTA when it is still not healthy to do so.
What Must I Become To Stop Being Stranded?
Speaking from experience, protesting on social media will not work. VTA managers and decision-makers do not read social media posts. They also do not read online comments on stories in the press.
Being silent, uninformed, and passive will keep leaving you stranded. Only by being vocal, informed, and active together will VTA buses stop leaving you stranded. See above for help on how YOU can make VTA stop leaving you stranded.
Getting a car, bike or ride share doesn't fully escape VTA. They also plan and build highway toll lanes, some bike lanes, and some street projects as Santa Clara County's "Congestion Management Agency."
How It Sums Up…
Nearly 1,400 bus riders per day are being left stranded as VTA buses filled to capacity pass them by. We're encouraging riders like YOU to tell VTA to stop leaving you stranded. Also, VTA needs to ensure its bus and light rail fleet has the proper safety technologies to keep riders – and operators – safe.
VTA has the money to do all of this NOW. It just needs YOU to tell them to act NOW.
Who's Responsible At VTA?
In addition to decision makers on the VTA Board Of Directors, these key people in VTA management all share responsibility in leaving you stranded at bus stops:
Conclusion
What happens at VTA (or any public transit agency) is what riders like YOU allow. The goal of this guide is get YOU to help do something about being left stranded in this pandemic.
Talk to you online at the VTA Board meeting Thursday evening. Let's get to work doing something about it all.
Eugene Bradley
Founder & CEO, Silicon Valley Transit Users
Twitter: @MrEugeneBradley
In addition to those mentioned from Twitter, groups members Roland Lebrun, Monica Mallon and Marcia Cohen Zakai contributed to this action alert.