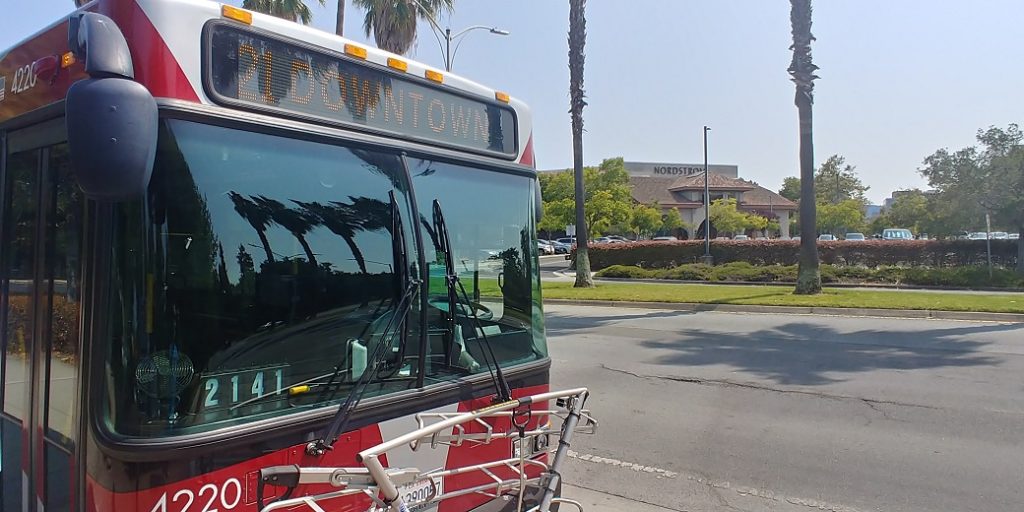 Table of Contents
Introduction & Disclaimer
Many malls and shopping centers in Santa Clara County always encourage you to drive there for shopping. They seldom encourage you to use buses or light rail to get there – making those who bother using mass transit as an alternative to traffic gridlock feel unwelcome as a customer. Especially during the Christmas holiday season, the huge parking lots surrounding these shopping centers fill to capacity, leaving drivers scrambling for a parking space – sometimes for hours.
We say there is a better way. Our credo is that mass transit is for everyone – not just those who cannot drive an automobile for whatever reason. Specifically, VTA buses and light rail, when utilized, serve as the perfect alternative to jammed highways to and from the malls, and jammed parking lots. Use of mass transit can help relieve you from stress, high insurance and maintenance costs associated with an automobile, and gives its users an escape from traffic gridlock and "road rage."
Hence, the creation of this guide for using mass transit to every major mall in Santa Clara County. It gives the user a chance eave the driving to someone else, so the only thing the user needs to worry about is the latest sale going on. This guide was inspired by another online guide, How to Thrive on Public Transportation In and About Santa Clara Valley by Antony Nispel. After reading this guide, you will find that there is "always a parking spot" when you take transit to any of these great malls.
For your convenience, we have provided links to the websites of each shopping center or mall. We have also provided links to specific stores at each of the shopping malls in Silicon Valley.
The purpose of this guide is to specify where shopping malls and stores are located, and which bus and/or rail services go to or near the shopping malls. Please note that the links to specific stores are NOT endorsements of the stores in any mall in any way whatsoever. Also note that mentions of specific shopping malls here are NOT endorsements of any mall in any way whatsoever.
We strongly encourage you to talk to mall management and get them to advertise all public transit options available to each mall.
All known VTA local, Rapid, and express bus and light rail lines serving various shopping centers are listed..
Be advised that this guide is not officially endorsed by the Santa Clara Valley Transportation Authority (VTA) in any way whatsoever. Our Group is publishing this guide only as a public service.
How To Use This Guide
Click on the mall you want to visit, listed above. A description (with website link if available) of the shopping center, along with its major tenants, is included.
Click on the bus or light rail line that serves the mall you want to go to. Another browser window will open that will give each transit service's operating schedule. WARNING: We do not control the content of this outside information.
When walking distance between transit stop and mall is mentioned, double the estimated time if you are mobility-impaired. Divide the estimated time by 2 if you are on a bicycle or scooter.
Not sure how to ride and pay fare for a VTA bus or light rail train? Read our guide on how to ride and pay fare on VTA.
For information on VTA bus and light rail service and respective fares, please call them at (408)321-2300 or by visiting their web site at www.vta.org. Information on SamTrans buses, schedules, and fares can be obtained by calling 1(800)660-4287 or by visiting their web site at www.samtrans.com.
Having problems planning your trip to any of these shopping centers on transit? Please consult the TakeTransit Trip Planner or dial 511 from any telephone in the Bay Area.
Please send any and all questions – or corrections – to this guide to info@svtransitusers.org.
Shopping in Campbell
The Pruneyard
The Pruneyard is at the northwest corner of S. Bascom Ave., and E. Campbell Avenue in Campbell.
VTA's 26 bus line serves the Pruneyard on Campbell Avenue, right across the street. Also, VTA's 61 bus line serve the Pruneyard on Bascom and Fewtrell, near Trader Joe's.
Shopping in Cupertino
Cupertino Square
Cupertino Square is located on Wolfe Road between Interstate 280 and Stevens Creek Blvd. in Cupertino. The mall has a 16-screen multiplex movie theater. It also has J. C. Penney, Macy's and Sears. It used to be known as Vallco Fashion Park. Cupertino Square now has Bowlmor Lanes as well.
VTA's 26 bus line has two (2) bus stops on Wolfe Road, under the pedestrian bridge linking both portions of the mall. Bus service to Eastridge Mall in San Jose is at the west side of Wolfe Road, near Macy's. Bus service to Sunnyvale and Lockheed is on the east side of Wolfe, next to the entrance of Bowlmor Lanes.
Also, VTA's 23 Local and 523 Rapid bus lines stops two short blocks south of Cupertino Square, at Stevens Creek and Wolfe Road.
Shopping in Gilroy
Gilroy Premium Outlets
The Gilroy Outlets are located at Leavesley Road off U.S. Highway 101 in Gilroy. Amongst the many outlet stores here are Brooks Brothers, Coach, and Tommy Hilfiger.
VTA's 84 bus line serves the Gilroy Premium Outlets. Going to the Gilroy Premium Outlets from north of Gilroy? Take VTA's 68 local bus line (or 568 Rapid bus on weekdays only) to the Gilroy Transit Center and transfer to the 84 bus line from there. Never been to the Gilroy Transit Center? Here's video showing you how the Gilroy Transit Center works.
At Gilroy Premium Outlets, the 84 bus serves the southern end of the Outlets on Arroyo Circle, and the northern end of the Outlets on San Ysidro Avenue.
From the Gilroy Transit Center, take any St. Louise Hospital-bound 84 bus to Arroyo Circle and Camino Arroyo, in front of Applebee's. Returning to the Gilroy Transit Center, board the 84 bus across the street, and on the other side of the entrance to the southwestern end of Gilroy Outlets.
For the northern end of the Outlets, stay on the 84 bus until the stop at San Ysidro Ave in front of the electric vehicle charging stations. Returning to Gilroy Transit Center, board the 84 bus at the stop on San Ysidro Avenue in front of the lot by the Gap Factory outlet.
Shopping in Milpitas
Great Mall
The Great Mall Of the Bay Area in Milpitas is the San Francisco Bay Area's largest outlet-based mall. It is located on Great Mall Parkway a short distance from Interstate 880 in Milpitas.
Many discount outlet chains have shops here, including Burlington Coat Factory, Old Navy, Sportmart, and Marshall's. The Mall also features Outback Steakhouse, Dave & Buster's, and a Century Theaters 21-screen movie multiplex.
VTA's 66 bus line serves the south side of the Great Mall directly, with stops on Great Mall Parkway and McCandless Drive. Also, VTA light rail's Orange Line has a direct stop at Great Mall.
The Great Mall is also a 10-minute walk from the Milpitas BART Station and Transit Center. Additional VTA bus, light rail, and AC Transit bus service to and from the Transit Center is mentioned here.
Seasons MarketPlace (Milpitas Mall) and Parktown Plaza
Seasons MarketPlace and Parktown Plaza are served by VTA's 47, 70, and 71 bus lines on Landess Ave, at S. Park Victoria Dr. bus stops.
In addition, the northbound 47 bus stops north of Landess Ave on S. Park Victoria Dr, while the 70 southbound stops on Morril and Landess.
Shopping in Mountain View
Downtown
Downtown Mountain View is home to many small shops and the Mountain View Performing Arts Center on Castro Street. VTA light rail's Orange Line has its western terminus in Mountain View, at the Caltrain station also served by VTA's 21, 40, and 52 bus lines. The station is also a hub point for two Mountain View community shuttle services like MVGo and the Community Shuttle, and numerous private employee buses.
VTA's 22 local and 522 Rapid bus lines serve downtown Mountain View at the western (south) end at El Camino Real and Castro.
San Antonio Shopping Center
San Antonio Shopping Center in Mountain View is an outdoor shopping center that is bordered by El Camino Real, Showers Drive, San Antonio Road, and California Street in Mountain View. Major retail stores include Wal-Mart, Trader Joe's. VTA's 22 and 522 Rapid bus lines serve the San Antonio Shopping Center on El Camino Real and Showers.
The San Antonio Shopping Center is also a transfer point for VTA bus lines serving Mountain View, like the 21, 40, and the Mountain View Community Shuttle. The bus stop for these lines is only 50 feet from the WalMart entrance on Showers Drive, near El Camino Real.
Target is a short walk east on Showers Drive across the street from the San Antonio Transit Center.
Shopping in Palo Alto
Stanford Shopping Center
Stanford Shopping Center is located on El Camino Real between Quarry Rd. and Sand Hill Road in Palo Alto. It is one (1) block north of Stanford University Hospital, and about two blocks from the Stanford University campus.
Two (2) blocks northeast, and a 10-minute walk, across El Camino Real, is the Palo Alto Caltrain Station and Transit Center. There you can transfer to Caltrain to San Francisco or San Jose, or connect to the Dumbarton Express bus (which runs on weekdays only) over the Dumbarton Bridge to Union City. The Palo Alto Transit Center is the terminus for several SamTrans buses like the ECR, and VTA's 21, 22 local and 522 Rapid bus lines.
For more convenient access to Stanford Shopping Center, VTA's 21 bus line, and SamTrans' 280 and 281 bus lines, have two stops next to the Shopping Center. The first stop is on Quarry Rd., and Palo Dr; the other stop is at Arboretum Rd. and Sand Hill Road. (The latter stop is the northern terminus of the 21 bus line, as featured in the photo at the top of this page. )
Retail stores available at Stanford Shopping Center include Neiman Marcus, Nordstrom, Bloomingdale's, and Macy's.
Shopping in San Jose
Almaden Fashion Plaza
Half a mile west of the Oakridge Mall mall lies Almaden Plaza. Located at 5353 Almaden Expressway between Highway 85 and Blossom Hill Road in San Jose, this outdoor-based mall features many shops. Chief tenants are Ross and T.J. Maxx. A Costco is nearby.
VTA's 64A bus line serves Almaden Fashion Plaza at the bus stop at Almaden and Foxchase Drive. Also, along Blossom Hill Rd. and Almaden Expressway, VTA's 27 bus line serves Almaden Fashion Plaza.
Berryessa Flea Market
The San Jose Flea Market is amongst the most well-known and largest flea markets in the United States. You can buy just about anything here. The Flea Market is at 1590 Berryessa Road (west of King Rd.) in San Jose.
The Berryessa Flea Market is steps away from BART's Berryessa/North San Jose station. The BART station is also served by VTA's 61, 70, 77, and 500 Rapid bus lines.
El Paseo de Saratoga/Westgate Mall
El Paseo de Saratoga (on Hamilton Ave. across from Target) has an AMC 14-screen multiplex theater, Albertson's, and an REI outdoor clothing store. It's across Campbell Avenue from Westgate Mall.
On the border of the cities of San Jose and Saratoga lies Westgate Mall. The mall features Old Navy, Nordstrom Rack, Any Mountain, and Target.
As of December 2021, both shopping centers are currently served by these VTA bus lines
For El Paseo de Saratoga, VTA's eastbound 26 and 56 bus lines stop at Saratoga and Quito. The 26 bus line stops on Campbell Ave, east of Saratoga Ave.
Across Campbell Avenue from El Paseo de Saratoga lies Westgate Mall.
VTA's 26 and 56 bus lines to Saratoga and Sunnyvale respectively, stop on the south side of Westgate Mall at Campbell Ave. The 56 and 57 bus lines stop on the west side of the mall along Saratoga Avenue, with the 56 bus also stopping at Atherton/Hamilton (north side) and Hamilton/Sagemont (east side) areas of Westgate Mall.
Other stores are in another shopping center across from Paseo de Saratoga and Westgate Mall are accessible from VTA's 26, 56, and 101 Express bus lines at the bus stop on Prospect Rd., west of Saratoga Ave.
Capitol Square Mall
The Capitol Square Mall is located at N. Capitol Ave. and McKee Road in San Jose. Target, Toys 'R Us, Albertson's, and Home Town Buffet are the primary tenants.
VTA's McKee light rail station is directly in front of Capitol Square Mall, on the Alum Rock-Santa Teresa line. The mall is also served by VTA's 64A and 64B bus lines from the eastern foothills, downtown San Jose and Almaden Valley at the McKee and Capitol bus stop, just east of Capitol Avenue.
Eastridge Mall
Eastridge Mall is located at the southwest corner of Capitol Expressway and Tully Road in San Jose. Reid-Hillview Airport and Raging Waters are within a short walking distance from the mall and Transit Center.
As of December 2021, the following VTA bus lines serve Eastridge Mall:
These buses serve Eastridge Mall at the transit center located on the northeastern end of the mall property, off Capitol Expressway just south of Tully Road.
Grand Century Mall
At 1001 Story Road at McLaughlin is the Grand Century Mall. It features Vietnamese shops and eateries in a mall-style setting.
VTA's 25 and 72 bus lines serve Grand Century Mall from the McLaughlin/Story bus stops at the corner.
Oakridge Mall
Located at 925 Blossom Hill Road off Highway 85 in San Jose, Oakridge Mall now has a 20-screen Century multiplex theater. The mall originally opened in 1973.
The following VTA bus lines serve the area around Oakridge Mall:
VTA's 27 bus line (from Kaiser San Jose) serves Oakridge Mall along Blossom Hill Rd. at two (2) stops – one at Blossom Hill Rd./Santa Teresa Blvd.; the other in front of Oakridge Mall itself. From Winchester light rail station, the 27 bus stops across the street from Oakridge, at bus stops at Blossom Hill/Winfield and Blossom Hill/Hillview.
On Winfield Blvd., VTA's 64A and 83 bus lines serve Oakridge Mall at the bus stop at and across from the former Oakridge light rail station.
As an alternate, Oakridge Mall is about a 20-minute walk away from the Ohlone-Chynoweth light rail station via Chynoweth Blvd. and Winfield Blvd. That station is currently served by the VTA light rail's Blue Line.
The Plant
The Plant shopping center is located at Monterey Highway and Curtner in San Jose. It features Target, Best Buy, Home Depot, Toys 'R Us, Kids 'R Us, and other shops and restaurants.
The VTA's 26, 66, 68, and 568 Rapid bus lines stop within a five-minute walk from The Plant, at the Monterey Highway/Curtner and Tully Rd. bus stops.
Plaza de San Jose
Plaza de San Jose is a shopping center located in San Jose's East Valley neighborhood at Story and King, The 191,500 square feet project includes major tenants such as: Target, Walgreen's and FAMSA, a home furnishing and appliance store based in Mexico.
VTA's 22, 25 and 77 bus lines serve Plaza de San Jose at the King and Story bus stops.
Westfield Valley Fair / Santana Row
Westfield Valley Fair Mall is located on Stevens Creek Boulevard between Winchester Boulevard, Forest Avenue and Interstate 880. Macy's and Nordstrom are the main retailers at this shopping center. Its outdoor transit center on the northwestern end of the mall at Forest Ave. off Winchester Boulevard (near Nordstrom) was amongst the first transit centers constructed by the Santa Clara County Transportation District (SCCTD) in the 1970's. Sadly, that transit center closed on October 11, 2021 to make way for additional shopper parking.
Designed in the style of a European village, Santana Row features high-end retail stores, a Best Buy (at the southeast corner of Stevens Creek and Winchester), some housing, and even a hotel. It opened in November 2002 despite a devastating fire that delayed its original opening date.
Three local VTA bus lines and one Rapid bus line serve both shopping meccas.
The 23 and 523 Rapid run in an east-west direction. The 59 and 60 bus lines run in a north-south direction.
For Westfield Valley Fair Mall, the 23 bus from San Jose stops directly in front of the Mall, near Chase Bank.
To transfer from the 23 or 523 Rapid buses to the 59 or 60 bus lines, get off the bus (or take the 523 Rapid bus to) the bus stop across Winchester, in front of the strip mall. Going south to Campbell? Cross Stevens Creek Blvd. and board the 60 bus at the stop after the clothing store. Going north to Santa Clara, San Jose Airport, or Milpitas? Make a right on Winchester Blvd. and board either the 59 or 60 bus at the stop on the side of Safeway. Reverse these steps when going the other way around.
For the 59 and 60 bus lines at the Mall:
Southbound stop for the 59 (Stevens Creek/Saratoga) and 60 (Winchester) is at Winchester south of Worthington Ct.
Want a faster trip to/from the area from downtown San Jose or Cupertino? VTA's 523 Rapid bus line stops at Stevens Creek Blvd., just west of Winchester Blvd., in front of the strip mall past Winchester. From the west and Cupertino, the bus stop for the 523 Rapid and 23 local bus is directly across Stevens Creek Blvd., at the sporting goods store.
Santana Row is directly across Stevens Creek Boulevard from Westfield Valley Fair Mall.
Shopping in Santa Clara
Santa Clara Town Center
The Santa Clara Town Center is located in Santa Clara, on El Camino Real and Scott Boulevard. The Town Center features Target, Walgreens, Sprouts Market, Peninsula Beauty, and other retail stores.
VTA's 22 local and 522 Rapid bus lines stop at as well as across the street from the Town Center.
Shopping in Sunnyvale
Town Center
The Sunnyvale Town Center is bordered by Washington Ave, Iowa Ave, Mathilda Ave., and Sunnyvale Avenues in Sunnyvale. It is two blocks south of the Sunnyvale Caltrain station on Mathilda Avenue or S. Sunnyvale Ave.
Major tenants at the Sunnyvale Town Center are Target and Macy's.
VTA's 32, 53, 54, and 55 bus lines are a short walk from the Sunnyvale Town Center.
Conclusion
Want additional information on bus and train options to other malls in and around Silicon Valley? Please let us know.
Eugene Bradley
Founder & CEO, Silicon Valley Transit Users