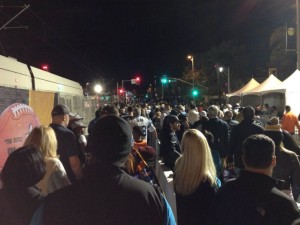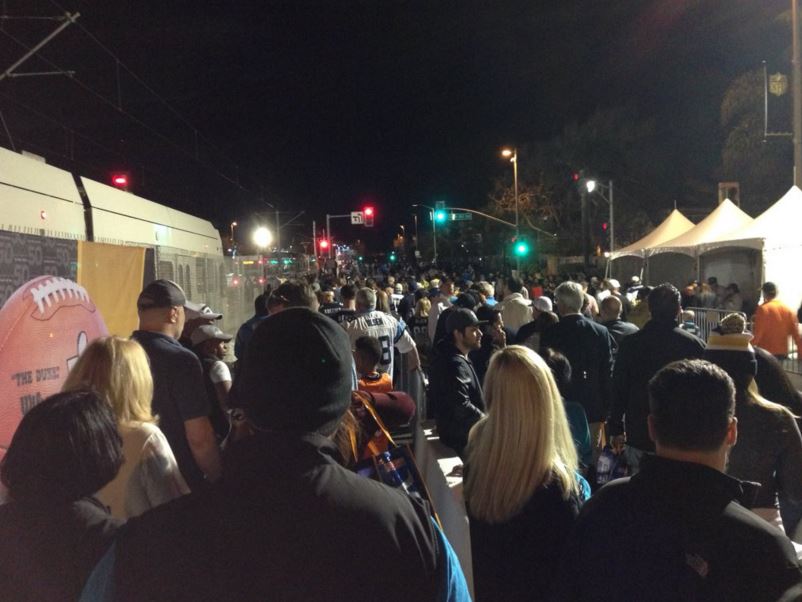 Super Bowl 50 in Santa Clara is now history. Congratulations to the Denver Broncos for winning Super Bowl 50 last Sunday over Carolina by a score of 24-10.
A big "Thank You" goes to BART, Caltrain and the Santa Clara Valley Transportation Authority (VTA) for providing public transit to and from Super Bowl 50. VTA carried 9,500 fans to and from Super Bowl 50. Of that number, 60% of them transferred from light rail to Caltrain in Mountain View, according to Mass Transit Magazine.
Here's how those who took VTA and Caltrain saw Super Bowl 50…
Pre-Game
This is one of the longer lines of the day at San Jose Convention Center for @VTA #SB50 train to Levi's Stadium pic.twitter.com/RR264nuuBe

— Mark Gomez (@MarkMgomez) February 7, 2016
Meanwhile, aboard Caltrain from San Francisco…
Caught the first @Caltrain_News #SuperBowl express train out of #SF. Lotta teal & orange pic.twitter.com/RDSEPaMy7S

— Matthias Gafni (@mgafni) February 7, 2016
And in Mountain View…
Transfer from @Caltrain_News to @VTA could not have been smoother; army of bus employees guiding folks to light rail pic.twitter.com/mQ6ZvLpv2n

— Matthias Gafni (@mgafni) February 7, 2016
Meanwhile, on VTA light rail…
#SuperBowlSunday where are the @Broncos fans? On @VTA with me. They know how to ride lightrail in Mile High City pic.twitter.com/DPgRLazfsF

— Beth Willon (@bethwillon) February 7, 2016
Post-Game
After the game was played and the trophy awarded, at the Mountain View Caltrain station…
Fairly reasonable-sized crowd at @Caltrain_News #MountainView station, but not bad post-#SB50 pic.twitter.com/9Mglw7MPUZ

— Matthias Gafni (@mgafni) February 8, 2016
and on a VTA light rail train from Levi's Stadium…
End of a 12 hour day. Just like a day at Disneyland but the rides are slower. ; ) #SB50 #VTA pic.twitter.com/pjwE0GM4Ct

— Tom Hanna (@thisendshere) February 8, 2016
All the good service by Caltrain and VTA on Super Bowl Sunday was summed up by this tweet:
@VTA VTA and @Caltrain_News did an EXCELLENT job of transporting thousands of us @SB50 fans quickly & efficiently. Kudos and thanks!

— Diana Prince (@vegasbling) February 8, 2016
Two Known Transit Issues on Super Bowl Sunday
There were a couple of transut issues found – both of which in Mountain View. The first of which was lack of signage detailing rerouting for the VTA's 35 bus line in Mountain View on Super Bowl Sunday:
@VTA No signs pointing out the reroute of route 35? pic.twitter.com/7uuYQNlb2F

— A. Karl Kornel (@californiaKARL) February 7, 2016
The other involved towing of cars in Mountain View the night before Super Bowl 50…
@smctd towed my car from the Mountain View Station lot tonight. No signs were posted and I paid for all day parking. Do I get my $5 back?

— Jeremy Tucker (@j3pio) February 7, 2016
In the future, one way both situations can be proactively avoided: contact the public transit agencies at least 48 hours before your trip. This will verify what to expect before traveling by bus, train, or a transit parking lot. In the case of Caltrain (or SamTrans), their phone number is 1(800)660-4287. For VTA buses and light rail. If at all possible, call during normal business hours, to ensure you get the latest information.
When calling, note who you talked and the information they give you. If necessary, write the questions you want to ask, before you make that call.
Conclusion
To their credit, the NFL, Caltrain and VTA successfully avoided the transit debacle of Super Bowl XLVIII in New Jersey. For VTA in particular, their Levi's Stadium transit service grew much from the initial transit service to the first Levi's Stadium event in August 2014.
An equally big "Thank You" first goes to all local, state, and federal agencies who helped secure it all. Without you, all of the safe travel to, at, and from Super Bowl 50 would not be possible.
Eugene Bradley
Founder, Silicon Valley Transit Users