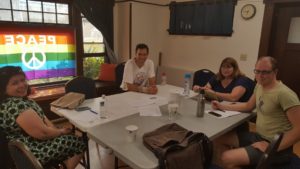 The Valley Transportation Authority (VTA) Board Chair will see some of his managers this week.  San Jose Mayor Sam Liccardo – also VTA Board Chair this year – will be our guest at our group's upcoming meeting this Thursday in San Jose. 
TIME/DATE: Thursday, April 26 at 6pm
PLACE: San Jose Peace & Justice Center, 48 S. 7th Street (between Santa Clara and San Fernando Streets), San Jose
GETTING THERE: Many VTA bus lines like the 22, 522 Rapid, 72, 73 and Highway 17 Express stop near the Peace and Justice Center.  There is limited bicycle and automobile parking behind the building, so it's advisable to take public transit to and from the building.  There is also wheelchair access behind the building.
The agenda and a toll-free dial-in number to the meeting follow…
The meeting is expected to be no more than 45 minutes.  Please be on time and be prepared to ask Mayor Liccardo on why he further wants to reduce VTA transit services.  Meeting agenda:
6pm – I make quick opening remarks welcoming everyone and Mayor Liccardo. Public and group members introduce themselves.

6:05pm group members and public give input to Mayor Liccardo

6:25pm Mayor Liccardo can give his thoughts on the public input given.

At this meeting, we will be discuss our concerns on how VTA bus service is currently worse than it was in 1988.  This comes as VTA is set to open Phase I of the BART extension to Berryessa next year, and with VTA's approval last month of the downtown San Jose single-bore BART tunnel.  All of which was despite promises by VTA to have a "750-bus fleet" as part of Measure A in 2000.  Details on all of this are documented here.
Mayor Liccardo's current proposal to further reduce VTA service in Santa Clara County contradicts his climate change goals he made in his "State Of the City" address on February 8.  Amongst his climate change goals he stated: reduction of vehicle miles traveled (VMT) in San Jose by 40% in 2040. 
Originally, we were supposed to have VTA General Manager and CEO Nuria L. Fernandez at our meeting.  Sadly, she could not come to our meeting due to a scheduling conflict.  Our group will try to schedule her for our May 24 group meeting.
Can't make it to San Jose in person? Here is a toll-free dial-in number for you to call in to the meeting, starting next Thursday at 6pm SHARP.
Dial-in number: 1(844) 740-1264
Passcode: 195801533
When prompted for a pass code, enter the Passcode given, then press the pound (#) key on your telephone. When asked who you are, please provide your name and where you live. No anonymous calls will be permitted.
Got Cisco WebEx? You can join our meeting via WebEx online here.
Note that the meeting will be recorded for transparency purposes. By calling, or joining the meeting live, you give consent to being recorded.
Our group will do its part to hold Sam Liccardo accountable.  We strongly encourage every citizen of Santa Clara County to join us and do your part Thursday evening.  Will you do your part to hold Mayor Liccardo accountable?
Eugene Bradley
Founder, Silicon Valley Transit Users