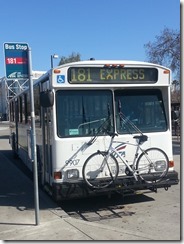 On Monday, April 14, the Santa Clara Valley Transportation Authority (VTA) will make several changes to bus and light rail service throughout Santa Clara County.
Details on the changes are after the jump.
Chief amongst those changes, as member Dwayne Williams pointed out on our email list:
Line 81 (Vallco-San Jose State University)- The routing in the Vallco area will be changed due to the permanent closure of Pruneridge Ave. between Wolfe and Homestead (see map below). Buses will terminate at an improved stop at Wolfe & Stevens Creek. Minor weekday and Saturday schedule changes will be made.
Express Line 181 (Downtown San Jose- Fremont BART)– Additional service will be added on weekends due to high ridership. On Saturday, new northbound trips will be added leaving San Jose Diridon at 8:58 a.m. and 6:35 p.m., and a new southbound trip will leave Fremont BART at 8:44 a.m. On Sunday, additional trips will be added in both directions between 7:30 a.m. and 11 a.m., and also between 6 p.m. and 8 p.m.
One potential idea for extra bus service on the 181 express bus line between Fremont BART and San Jose Diridion Station: additional support for evening events at SAP Center. This was brought up to us thru Twitter recently:
Left #Sharks game before the end of the 3rd period & winning 5th goal: @VTA bus 181 to #SFBART only runs 1/hr after 9 pm #SouthBay #transit

— Kenya Wheeler (@kenyaw) April 2, 2014
@svtransitusers @VTA right, but would have had to wait outside for 40+ minutes as the #SJSharks game ended at 10:12 pm. Need 30min headways!

— Kenya Wheeler (@kenyaw) April 2, 2014
What additional VTA bus improvements do YOU want to see in Santa Clara County? Discuss using the following methods most convenient to you today:
Make sure you also let VTA know about bus service improvements YOU want in Santa Clara County as well.
Eugene Bradley
Founder, Silicon Valley Transit Users