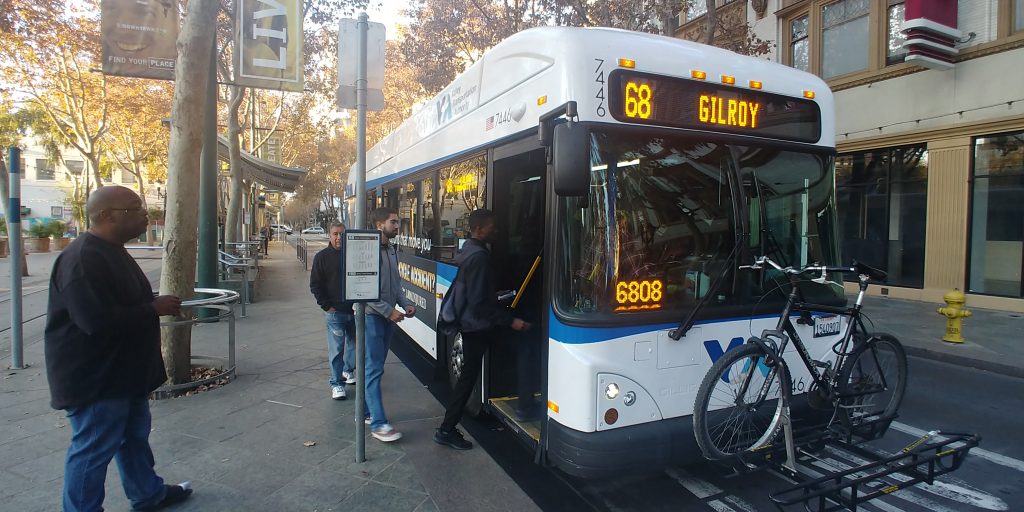 On April 24, the Santa Clara Valley Transportation Authority (VTA) made several service changes to increase bus and light rail service throughout Santa Clara County. Read more about these changes here.
Key notes on the April 24 service changes:
Going to the South County Courthouse in Morgan Hill? The 568 Rapid bus no longer serves the Morgan Hill Caltrain station. Instead the bus will stay on Monterey Hwy. thru downtown Morgan Hill. The stop now shares the 68's bus stop on Monterey/3rd, a 10 minute walk to the Courthouse on 301 Diana Ave.
On weekends, the 27 bus no longer serves downtown Los Gatos due to area traffic and resulting delays. Those normally taking the bus to downtown Los Gatos. Bus stops for downtown Los Gatos on weekends will be Santa Cruz/Los Gatos-Saratoga (EB to Kaiser SJ), and Los Gatos-Saratoga/University (WB to Winchester LRT station).
Also, VTA still does not have enough light rail operators to run light rail at 15-minute frequencies on weekends. This will change as bus drivers apply to become light rail operators throughout the year. VTA is still hiring bus operators; here's how to apply for a bus operator job.
What are your thoughts and feelings on today's service increases? Please comment and suggest below.
More later this week. Meanwhile, have a nice day and stay safe.
Eugene Bradley
Founder, Silicon Valley Transit Users