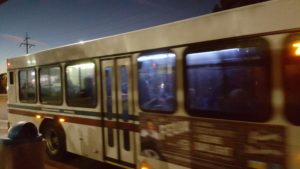 Our group's first meeting of 2017 will be in San Jose this coming Tuesday at 6pm.  There, we'll have more discussion about VTA's proposed "Next Network" bus restructuring proposal. That will include some additional talking points for you and others to bring up and follow up on at the public meetings VTA will hold throughout the county in February.
TIME & DATE: Tuesday, January 31 at 6pm
PLACE: San Jose Peace & Justice Center, 48 S 7th Street, San Jose.  The Peace & Justice Center is 1/2 block north of the San Jose State University Campus
GETTING THERE: Read this map of the area around the Peace & Justice Center, and details on VTA buses and light rail that stop nearby.
Bring a pencil/pen and paper with you to our meeting for note taking. Also, be ready to start taking action on what we discuss.
Please distribute this invitation to everyone where (legally) permitted. ALL ARE WELCOME!
Eugene Bradley
Founder, Silicon Valley Transit Users