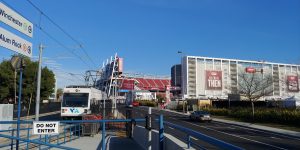 Championship Sunday will be in Silicon Valley today.  The San Francisco 49ers host the Green Bay Packers at Levi's Stadium in Santa Clara in the NFC Championship game, with kickoff at 3:40pm.  The winner of the game will go to Miami to play in Super Bowl LIV.  It is the first time Levi's Stadium will host the NFC Championship game.
Auto traffic will be very heavy for this vital game.  Fortunately, to help you beat the traffic and parking woes, several local transit agencies will provide extra service to and from today's game.  In particular, extra service from Caltrain, Capitol Corridor, and Santa Clara Valley Transportation Authority (VTA) will be available for football fans for today's game.
Never rode public transit before in Silicon Valley? Here's a guide that shows you how.
Because up to 70,000 fans are expected for today's game, expect standing-room only (SRO) conditions on VTA light rail (especially on the new Orange line) for today's game.  Such SRO conditions are expected to last until about 7pm, when the game is expected to end.