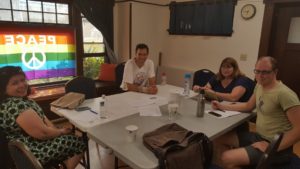 On behalf of our group, I want to wish you a Happy (and safe) Thanksgiving.
Want to help make public transportation in Santa County better for everyone?  Please join us on Tuesday, November 29 for our last meeting of 2016.  At our last meeting for 2016, we will discuss:
Your thought's on VTA's "Next Network" transit restructuring proposal and what YOU can do.  (Read more about the VTA "Next Network" proposal.)
The impact of "Measure B" – its passage and where transit goes from here
increased safety issues on buses and trains and what YOU can do to help
other issues YOU have with VTA buses and trains, and how we can solve them together
TIME & DATE: Tuesday, November 29 at 6pm SHARP
PLACE: San Jose Peace and Justice Center, 48 S. 7th Street, San Jose
GETTING THERE: It's about 50 yards south of E. Santa Clara Street in downtown San Jose, and near many VTA bus lines like the 22, 64, 522 Rapid, 72 and 73. It's also a short walk from the Santa Clara (Street) light rail stop.  Here is a map of the area around the Peace and Justice Center in downtown San Jose.
Bring a pencil or pen and paper so you can take down notes on what to do.
Approving sales tax ballot measures every few years to improve transit is never enough.  Whining from behind your keyboard changes nothing.  Better only happens when we learn TOGETHER and fight TOGETHER in person.
Power to the people.  See you on Tuesday.
Eugene Bradley
Founder, Silicon Valley Transit Users