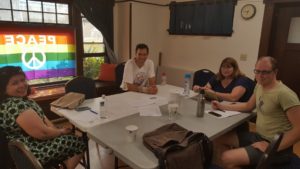 Among what we will discuss at our upcoming meeting on Thursday at 6pm in San Jose:
How we can address VTA's shortage of buses throughout the county
VTA's street improvement projects on Bascom Ave., Tasman Dr. and Story/Keyes Avenues – and what we can push for
Have anything else transit-related that we should be fighting for? Please address it at our meeting, BEFORE the agenda items listed.  (Otherwise, you will have to wait until the end of the meeting to address your particular item.)  Be prepared to discuss how YOU would help make it happen.
We meet at the San Jose Peace & Justice Center, 48 S. 7th Street in San Jose. Transit and driving directions to the Peace and Justice Center are found here.
Note that if you plan on driving to our meeting, there is limited parking in the back.  Also, do not park in the Grocery Outlet Bargain Market parking lot across the street – you will be towed at your expense.
Can't make it to our group meeting in San Jose? You can join us via dial-in at 5:55pm. Info is as follows:
Call 1(415)655-0001
When prompted for the "meeting pin number," enter 190809846
When told that "You have joined the Conference" and after hearing that this is the Silicon Valley Transit Users meeting, please give your name and where you live.
See you on Thursday. We have much to talk about and fight for.
Eugene Bradley
Founder, Silicon Valley Transit Users