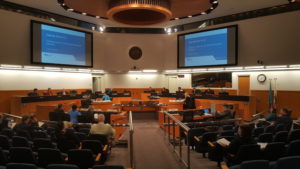 The last Santa Clara Valley Transportation Authority (VTA) Board Of Directors' meeting of 2017 took place on December 7.  There, San Jose Mayor Sam Liccardo was voted unopposed as the VTA Board Of Directors' Chair for 2018.  Also, Santa Clara City Councilmember Teresa O'Neill was voted 9-2 over Cupertino's Sadia Vaidhyanathan for Vice Chair in 2018.
You can view all four hours of the last VTA Board Of Directors' meeting of 2017 here.  Or, read on for a summary of what was decided at this VTA Board Of Directors' meeting.
General Portion
During Public Comment, I thanked the VTA Board for having the last meeting at 5:30pm instead of the normal early morning this meeting is held, and that it should be done from now on.
About half an hour into the meeting, John Courtney of the drivers' union ATU Local 265 revealed a pattern of VTA bus driver assaults:
11/26 bus driver assault Monterey/senter in San Jose. On-board camera did NOT work on the bus. Assaulted driver has PTSD.
12/2 another bus driver assault @ Alum Rock Transit Center. Bus entrance pepper sprayed by assailant, who was caught and had charges pressed by ATU Local 265. Driver has PTSD from incident.
12/2 Driver of VTA Downtown Christmas was slapped. On-duty supervisor actually allowed assailant to stay on the trolley.
(More on these assaults – and what we can all do to help prevent them and catch the assailants – will be in another post.)
A citizen wants Clipper card reader near bus doors to speed up boarding and help improve on-time service.
Omar Chatty reminded us that highways are escape routes, and to widen highways.
Consent Agenda
During the Consent Agenda portion (where items are approved or rejected in bulk), I noted to VTA that their paratransit certification award winner, Medical Transportation Management, is facing a class-action lawsuit in Washington, DC alleging they are underpaying paratransit drivers.
Also approved as part of the Consent Agenda:
The rest of the Board meeting notes are based on the full video of the Board meeting.
Regular Agenda
BART Project Update
2:29:00 8.1.C BART project update presentation
2:53:30 Roland LeBrun pointed out one fact VTA's report on the Barcelona tunnels didn't: the tunnels were 8 years late as builders quit building station platforms in the tunnels after the first 3 stations were built. Also pointed out that digging would have to done at Diridon anyway (for High-speed rail concourse) and urged VTA to build an integrated Diridon station.
General Manager's Report
3:06:20 8.1 General Manager Nuria L. Fernandez gives her report to the VTA Board – and YOU.
3:30:30 Omar Chatty wants to know how much VTA is spending to rebrand their vehicles in their new colors.
I reported to VTA their mini-meltdown from Friday, December 1 during the Pac-12 football game at Levi's Stadium.  More on that in a separate post.
Roland LeBrun suggested a 2.5% tax on commercial rentals in SF $100million/year, something for VTA to consider to replace measure B, in case appellate court throws out the measure.
Commuter Shuttle Policy
At 1:46:55 of the Board Meeting, VTA discussed and later approved a policy for "commuter shuttle" rules and regulations at VTA bus stops and transit centers.  Eleven people spoke up supporting the proposed commuter shuttle policy.
One comment that stood out during the Public Comment for this issue: Tony DeLores, a Business Agent for Teamsters' Local 665, pointed out that someone was hit and killed by one of the commuter shuttles at West Valley College.  This incident and death, as Mr. DeLores mentioned, prompted the need to regulate these commuter shuttles.
Conclusion
What are your thoughts as to what went on at Thursday's VTA Board Of Directors' meeting. Please comment and suggest below.
Eugene Bradley
Founder, Silicon Valley Transit Users