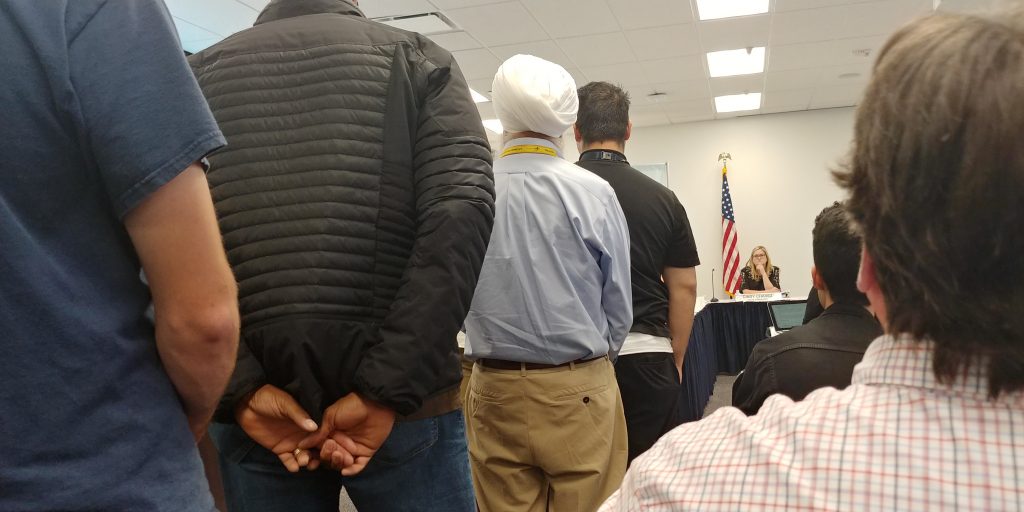 A key committee at the Santa Clara Valley Transportation Authority (VTA) voted yesterday to further restrict your voice at meetings. In a unanimous vote, VTA's Governance and Audit Committee voted to continue to allow public speakers only one (1) minute at Board meetings, and two (2) minutes at Committee meetings.
Highlights of yesterday's vote at VTA are below.
Background
This San Jose Spotlight story back in March documents how VTA had considered limiting public comment at meetings.
Currently, public comments at VTA board meetings are limited to one minute each. General public comments—unrelated to any specific item on the meeting agenda—are heard early in the meeting, after roll call and announcements, continuing until everyone who has asked to speak has done so. This is a key time for people to raise issues that the board may not know about.

The proposal, designed to focus the meetings, limits the first public comment period to 20 minutes. People who don't get a chance to speak in the first 20 minutes of the meeting will need to wait until near the end of most meetings—after all of the public hearings, committee reports and other work is done.\
Read up on the draft on what VTA proposed for public comments here.
How Our Group Took Action
In addition to getting people like YOU to this key committee meeting, our group sent a letter to VTA expressing our concerns, Here was how VTA responded to our letter.
Here's analysis of VTA's response by Marcia Cohen Zakai.
1.        Ms. Baltao pointed out that the proposed changes don't make it mandatory to select a spokesperson.

It would, however, be at the Chair's discretion to request that members of the public do so. Even if the intent were merely to "speed the meeting along," it shows an unwillingness to spend meeting time listening to public concerns. It ignores the value of hearing individual transit-dependent riders' concerns, based on how they experience VTA service. In my view it shows contempt for the public. Does the Chair really need expanded, discretionary powers?

2.        Ms. Baltao: "We are not restricting public comments":

This reminds me of the former GM's interpretation of the meaning of bus route cuts on 12/28/19. She said there were no service cuts, but only service reallocation. Rewriting the procedural rules for public comments may, in the end, discourage the public from speaking. Is that the real intent?

https://groups.io/g/svtransitusers/message/750
Vote Highlights
Here are highlights of how yesterday's vote went down:
End Result…
Ultimately, the proposal passed unanimously, with the following exceptions:
Item B.8 was removed and was sent back to VTA Staff for review. Committee & VTA Board Chair Glenn Hendricks recommended this removal
The word "derogatory" was struck from item B.11
Conclusion
On behalf of the Silicon Valley Transit Users, thank you for coming to speak out against this attempt to stifle you at VTA meetings. More on this in a future story, as facts warrant.
What are your feelings on how we should follow up on this? Please politely comment.
Eugene Bradley
Founder & CEO, Silicon Valley Transit Users
Group members Marcia Cohen-Zakai and Monica Mallon contributed to this report.