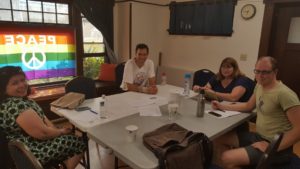 Here is what you missed at our last meeting July 26 in San Jose.
We discussed VTA's recenter termination of its paratransit contract with OUTREACH.  As VTA starts the bidding process for a new paratransit, we will all need to be vigilant. While no current paratransit service will be affected, we will still need to monitor the transition progress.  One such way to monitor progress (if you are not doing this already): attend and speak up at VTA's "Committee for Transit Accessibility" (CTA) meetings. The next such meeting for CTA will be in October.
We also discussed having a debate between a supporter and an opponent of VTA's latest transportation sales tax ballot measure for our group's next meeting August 30 in San Jose. This will help our group determine whether we will support or oppose VTA's latest sales tax measure.  This will likely be known on the November ballot as "Measure B" as Measure A has been reserved for Santa Clara County's "Affordable Housing" bond proposal.
More details on our August 30 "VTA sales tax debate" will be posted as soon as details warrant.
Eugene Bradley
Founder, Silicon Valley Transit Users