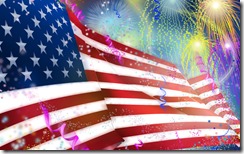 On behalf of the Silicon Valley Transit Users, I want to wish you a Happy Independence Day.
Today, all transit agencies serving Silicon Valley are operating on a Sunday/Holiday schedule today. This includes, in no particular order:
Normal, weekday service will return tomorrow (Wednesday).
Meanwhile, here are public transit options to fireworks displays throughout Silicon Valley tonight.
Table of Contents
Background
Information on VTA bus and light rail service to fireworks displays tonight is mainly based on a San Jose Spotlight article highlighting how San Jose is cracking down on illegal fireworks.
Only fireworks displays with VTA bus and light rail service at or near a 15-minute walk or bicycle away will be shown here. Double any walking times listed if you require a mobility device to get around instead of walking; halve the walking times if you are using your bicycle.
Plan to arrive at the fireworks viewing site as early as possible. This ensures you have the best seat. Also, plan enough time to reach the VTA bus or light rail stop, preferably before the last buses for the night are scheduled to arrive.
Here are your public transit options to fireworks shows in Santa Clara County accessible by VTA bus and light rail service. Fireworks shows are listed by city, in alphabetical order.
Cupertino
Like last year, Cupertino will have an entire day of family activities July 4. This video documents the available activities:
Cupertino's fireworks show at Creekside Park at 10455 Miller Ave. is about a 15 minute walk south of Stevens Creek/Wolfe. Ride VTA's 23 local bus to Stevens Creek/Wolfe (westbound to De Anza College) or Stevens Creek/Miller (eastbound to Alum Rock light rail station) then walk 15 minutes south to Creekside Park. Cupertino's fireworks show starts at 9:30pm; the last 23 bus runs eastbound to Alum Rock light rail station are expected to leave Stevens Creek & Miller at 12:47am.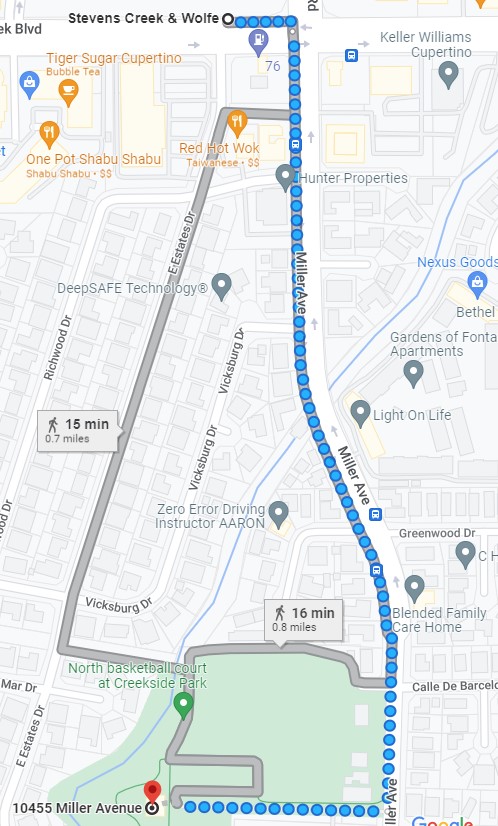 The map above highlights the walking you will need to do to reach the Cupertino fireworks show.
Gilroy
Gilroy's fireworks show is in the area of Gilroy High School and Christmas Hill Park. The viewing site is at Gilroy High School at 750 W. 10th Street. Gilroy is served primarily by VTA's 68 bus line from San Jose, terminating at the Gilroy Caltrain Station and Transit Center.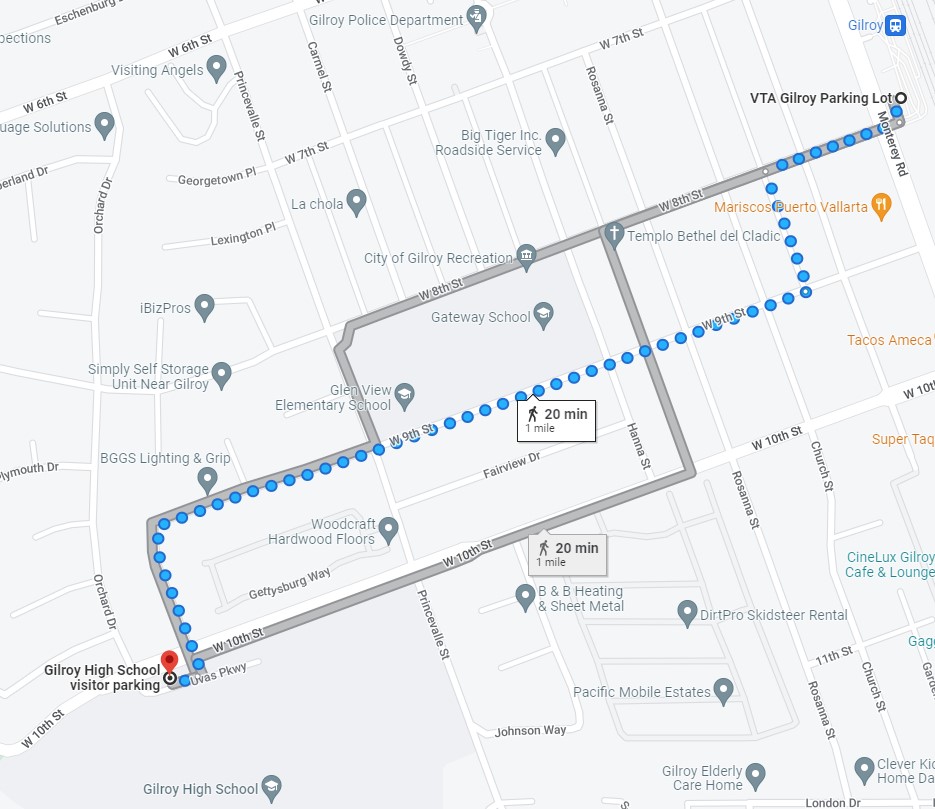 The map above shows the one (1) mile walking distance between the Gilroy Caltrain Station and Gilroy High School. Fireworks start at 9:30pm; last 68 bus to San Jose leaves at 10:18pm. As an alternate, consider viewing the fireworks from the Gilroy Caltrain station by looking southbound.
San Jose
Here's information below on two San Jose fireworks displays accessible by VTA bus and light rail service.
Children's Discovery Museum (Downtown)
VTA has announced it will run additional light rail service with extra cars to support the annual fireworks show in downtown San Jose. That show will be in the meadow of Children's Discovery Museum at 180 Woz Way, starting at 9:30pm.
Excite Ballpark (Alma/Senter)
Starting at 5pm, the San Jose Giants are hosting an Independence Day celebration featuring a movie, games, and then fireworks afterward. Get tickets for the celebration. Afterward, read and learn from our public transit guide for the area. It shows you buses like the 73 which stop feet from the stadium and festivities. It also shows you buses like the 25, 66, and 68 along Keyes/Story Rd. and Monterey Highway, respectively, about a 15 minute walk away.
Santa Clara
Great America will have its annual Fourth of July celebration at its theme park in Santa Clara. As with the fireworks in downtown San Jose, VTA will run extra service with additional cars to support crowds going to and from the fireworks.
Conclusion
Today and tonight, make sure to allow professional fireworks handlers to provide entertainment and shows. Only call 911 if you or someone you know is experiencing a life-threatening emergency.
Also, the transit tips in this guide are a good, safe alternative to driving in traffic. Especially if you have been drinking alcohol as part of the Fourth of July celebrations.
More information coming up. Meanwhile, make sure you enjoy Independence Day, safe and sane.
Eugene Bradley
Founder, Silicon Valley Transit Users