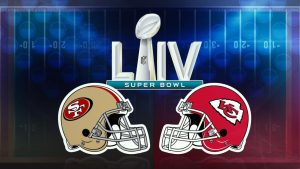 The stage is set for Sunday afternoon in Miami for Super Bowl LIV.  Can't make it to Miami for the Big Game between San Francisco and Kansas City?  There are local parties at bars, clubs, and restaurants throughout Santa Clara County.
Background and Disclaimer
This post will help you with VTA bus, light rail, and Caltrain options to and from the parties.  They will save you money and help you beat traffic gridlock and parking woes.  Most important, they will help take you home if you had a little too much during or after the game.
Not sure how to ride VTA buses or light rail in Santa Clara County?  Read our first-time transit rider's guide for some help.
Contact VTA for more specific bus and light rial information before going to your Super Bowl party.
Mentions of bars and clubs here are not endorsements.  They are simply examples of clubs and bars we know of that are holding viewing parties.  There are likely other bars in the area hosting Super Bowl viewing parties.  For those establishments that are mentioned, call or email ahead to learn of any cover charge or reservations you must make beforehand.  Make sure to arrive at least 2 hours before the 3:40pm kickoff, to ensure you have a seat or spot to watch the game.
We are not responsible for any of the establishments and their info in this guide.  Call VTA ahead of time to help your plan your transit trip to and from the viewing parties.
North County
Palo Alto
The Old Pro at 541 Ramona St. (north of Hamilton Ave.) in downtown Palo Alto is hosting a Super Bowl party.  The Old Pro is a short walk from Hamilton Ave, and the VTA 21 bus line stops at the corner.
Transit-wise, Palo Alto's Transit Center on University Ave. off El Camino Real is served by Caltrain, SamTrans buses like the ECR and 397, and VTA's 21, 22, and 522 Rapid bus lines.
Mountain View
Flights Restaurant at 800 California St. (at Castro St.) in downtown Mountain View is hosting a Super Bowl party.  Flights is right in front of the VTA's 40 bus line stop at the corner of California and Castro.
Other bars and restaurants along Castro Street in Mountain View are also hosting Super Bowl parties.  These establishments are a 5-10 minute walk from El Camino Real and VTA's 22 & 522 Rapid bus lines.  Also, Mountain View Transit Center (on W. Evelyn and Castro) is served by Caltrain, VTA light rail (Green Line from northern Sunnyvale, Santa Clara, North San Jose, and East San Jose) and VTA's
Sunnyvale
Bella's Bar & Grill at 1111 Elko Drive (off Lawrence Expwy., one block north of Tasman Dr.) is hosting a Super Bowl party.  Take VTA light rail (Green Line) to the Vienna station, which is a 12-minute walk away from Bella's.
Fuego Bar & Grill is at 140 Murphy Avenue in downtown Sunnyvale. It's a short walk from the Sunnyvale Caltrain station.  It – and other nearby bars and restaurants – is also one block from Frances Avenue and VTA's 55 local and 523 Rapid bus lines.
Milpitas (Great Mall)
Dave & Buster's Milpitas is a popular Super Bowl viewing place.  It is a 15-20 minute walk from the Milpitas BART Station, currently served only by bus lines like AC Transit's 217 bus, VTA light rail, and VTA buses like the 44, 47, 60, 66, 70, 71, and 77.

San Jose
Uproar Brewing Co. at 439 S. 1st Street (between E. San Salvador and E. William Streets) in downtown San Jose, is hosting a Super Bowl viewing party. It's a 10 minute walk from VTA's 66 and 68 bus lines.
Bars and restaurants at San Pedro Square (off W. Santa Clara St.) will also have viewing parties.  Our transit guide to San Pedro Square has details on VTA bus and light rail service within walking distance.
South San Jose
Britannia Arms in Almaden (5027 Almaden Expressway) is hosting a Super Bowl party.  It's a short walk from VTA's 64A bus line at Almaden Expressway and Cherry bus stop.
South County (Morgan Hill, San Martin, Gilroy)
VTA's 68 bus line serves the bars and restaurants, especially in Morgan Hill and Gilroy.
Conclusion and Warning
California Highway Patrol (CHP) and local peace officers will be out in full force this Sunday, They will be especially be on the lookout for impaired drivers.
On Super Bowl Sunday, if you must drink, don't drive.  If you must drive, don't drink.  Do not enter a private automobile when the driver has been drinking and/or "high" on substances.  One purpose of this transit guide is to help you avoid being behind the wheel of a private automobile when distracted, drunk, or "high" on substances.  Even if you can't take a VTA bus or light rail train to and from your Super Bowl party, make sure you can get a taxicab, ride share, or have an unimpaired loved one/friend take you back home safely.
None of us want to read how you were hurt or killed due to an impaired driver Monday morning. Let's all have fun safely on Sunday at your Super Bowl Party.
Eugene Bradley
Founder, Silicon Valley Transit Users