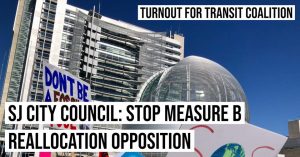 Some members on the San Jose City Council think you, as a transit rider, don't matter.  On Tuesday January 28, the San Jose City Council will vote on sending a letter to the Santa Clara Valley Transportation Authority (VTA) opposing reallocation of funding to help increase bus and light rail service throughout Santa Clara County.
Details on what is going on – and how YOU can help stop this letter – are below.
Background
Since spring of last year, our group has been fighting to get up to $1.5 billion in funding for highway expansion shifted to help increase bus service.  Funding for such is provided in VTA's 2016 Measure B.  (Santa Clara County voters passed Measure B with a 71% margin in 2016.) A breakdown of expenditures of 2016 Measure B from VTA is below.
BART Silicon Valley Phase II – $1.5 billion
Bicycle/Pedestrian Program – $250 million
Caltrain Corridor Capacity – $314 million
Caltrain Grade Separations – $700 million
County Expressways – $750 million
Highway Interchanges – $750 million
Local Street and Roads – $1.2 billion
State Route 85 Corridor – $350 million
Transit Operations – $500 million
Such a shift from County Expressways and Highway Interchanges would help add much-needed bus and light rail service in Santa Clara County.  The additional service would restore many of the cuts in public transit service VTA has made since 2000.
The chart below details the affect VTA's service cuts have had on ridership the last 20 years.
On December 12, 2019, the following people on the San Jose City Council sent this memo to Mayor Liccardo and the rest of the City Council opposing such redirection:
Vice Mayor Charles "Chappie" Jones
Councilmember Pam Foley
Councilmember Deborah "Dev" Davis
Councilmember Johnny Khamis
Contacts for these council members and Vice Mayor are further below.
As a reminder, such redirection is perfectly legal, under the ballot language of 2016 Measure B.
If approved by a 3/4 majority of the VTA Board of Directors, and only after a noticed public meeting in which the County of Santa Clara Board of Supervisors, and the city council of each city in Santa Clara County have been notified at least 30 days prior to the meeting, VTA may modify the Program for any prudent purpose, including to account for the results of any environmental review required under the California Environmental Quality Act of the individual specific projects in the Program; to account for increases or decreases in federal, state, and local funds, including revenues received from this tax measure; to account for unexpected increase or decrease in revenues; to add or delete a project from the Program in order to carry out the overall purpose of the Program; to maintain consistency with the Santa Clara Valley Transportation Plan; to shift funding between project categories; or to take into consideration new innovations or unforeseen circumstances.
Meanwhile, our group has been presenting our case to reallocate highway construction funding to help increase bus and light rail service to several citizens' groups.  View our presentation below.
2020 Service Expansion Options Presentation

Monica Mallon of San Jose (Cambrian) and several other people created the presentation.  Please let us know if your citizen group in Santa Clara County wants to see a similar presentation.
On Tuesday, January 28 at 1:30pm, The San Jose City Council will be voting to oppose the Measure B reallocation to improve bus service. It will be item 5.1 on the Council Meeting's Agenda.
Clarification and a Question
Rumors have it that we are asking to reallocate highway maintenance funding.  This is false.  Highway and road maintenance funding is vital for buses as well as trucks, private automobiles, and cyclists.
For those of you who insist on highway expansion, here's a challenge for you: name one highway expansion project built since 1955 that currently relieves traffic gridlock at rush hour.  Provide all details of the traffic relief, and show your work.
What Can I Do?
If at all possible, attend and speak up to the San Jose City Council this coming Tuesday (January 28) at 1:30pm.  San Jose City Hall is at 525 W. Santa Clara St., in San Jose.  It's two blocks east of Santa Clara (Street) VTA Light Rail station. Also, VTA buses like the 22, 522 Rapid, 523 Rapid, 72, and 73 bus lines stop within a short walk of San Jose City Hall.
What If I Can't Go On Tuesday?
Contact your representative on the San Jose City Council directly, by telephone or by email.  A list of who represents YOU on the San Jose City Council – and how to contact him or her – is below.
Not sure who represents you on the San Jose City Council?  Read this map to get an idea of who represents YOU on the San Jose City Council and where you live.  City Council maps by district are found here.
When contacting your San Jose City Council member, urge them to support Measure B reallocation to restore and increase bus service in Santa Clara County.  This is especially needed if you live, work, or shop in San Jose and depend on VTA bus and light rail service for your mobility.
What's Related To This Story?
Streetsblog SF (2016): VTA Measure B's Bloated Highway Expansions Leave Transit Unfunded
Conclusion
Ride a VTA bus or light rail train to, within, or from San Jose?  Let your City Council know to prioritize bus and light rail service and not to prioritize highway expansion.  Your silence tells San Jose City Council you don't matter.  Let's work together and speak up to start making good public transit happen this coming Tuesday.
Eugene Bradley
Founder, Silicon Valley Transit Users