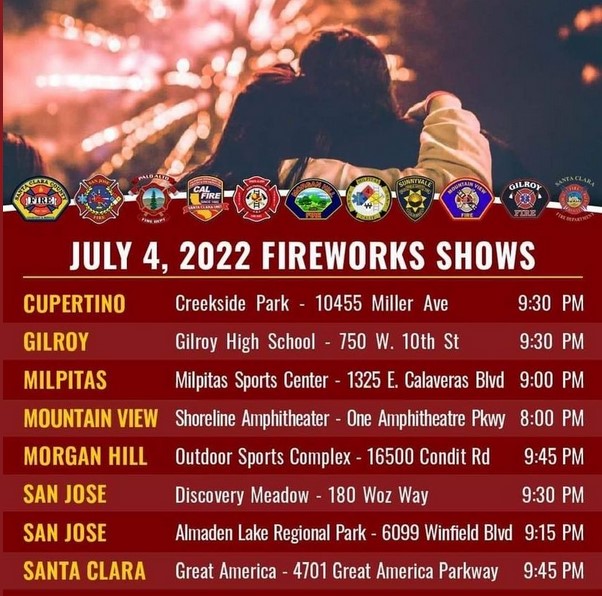 As Santa Clara County – and our nation – still slowly recovers from the COVID-19 pandemic, more public events are returning. As you can see from the poster above, public July 4 fireworks shows are one such event. Many transit agencies serving Silicon Valley, such as the Valley Transportation Authority (VTA), Caltrain, and BART, will be running a Sunday/Holiday Schedule on Monday, July 4.
Table of Contents
Background
First, let's state the obvious: the July 4 Fireworks Show along the waterfront in San Francisco is a short walk or streetcar ride away from Caltrain's 4th/King terminus in San Francisco. Caltrain will provide two (2) extra southbound trains at the end of the fireworks show that night, with the last train leaving San Francisco at 12:05am.
Be warned: in some areas of Santa Clara County, you may have to walk as long as one (1) mile between the fireworks shows and transit options. That will be noted for each part of the guide. Double any walking times listed if you require a mobility device to get around instead of walking; halve the walking times if you are using your bicycle.
Please plan on arriving at the fireworks viewing site as early as possible, to ensure you have the best seat. Also, plan enough time to reach the VTA bus or light rail stop, preferably before the last buses for the night are scheduled to arrive.
Here are your public transit options to fireworks shows in Santa Clara County accessible by VTA bus and light rail service. Fireworks shows are listed by city, in alphabetical order. Note that only fireworks shows occurring near active VTA bus or light rail lines at the time will be listed.
Cupertino
The City of Cupertino will have an entire day of activities on July 4, documented in this video:
Cupertino's fireworks show at Creekside Park at 10455 Miller Ave. is about a 15 minute walk south of Stevens Creek/Wolfe. Ride VTA's 23 local bus to Stevens Creek/Wolfe (westbound to De Anza College) or Stevens Creek/Miller (eastbound to Alum Rock light rail station) then walk 15 minutes south to Creekside Park. Cupertino's fireworks show starts at 9:30pm; the last 23 bus runs are expected to arrive at Stevens Creek & Miller at 12:46am (eastbound to Alum Rock light rail station)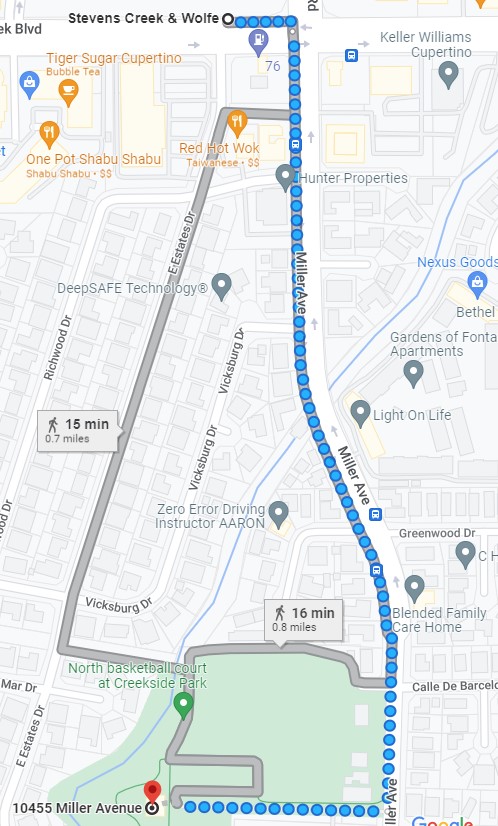 The map above highlights the walking you will need to do to reach the Cupertino fireworks show.
Gilroy
Gilroy's fireworks show is in the area of Gilroy High School and Christmas Hill Park. The viewing site is at Gilroy High School at 750 W. 10th Street. Gilroy is served primarily by VTA's 68 bus line from San Jose, terminating at the Gilroy Caltrain Station and Transit Center.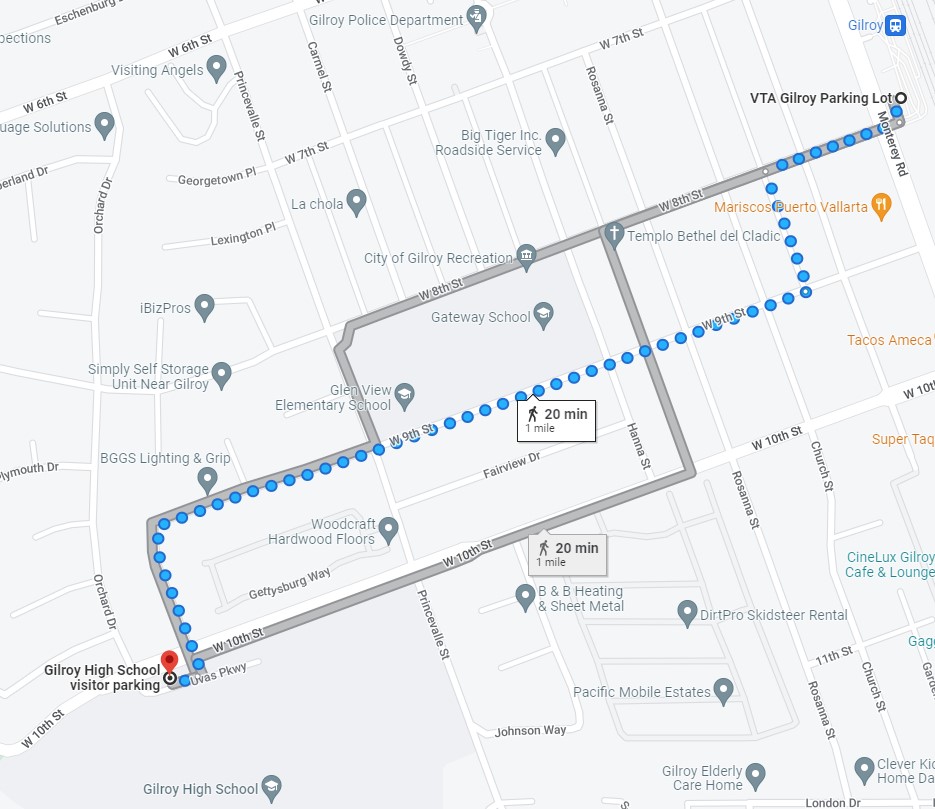 The map above shows the one (1) mile walking distance between the Gilroy Caltrain Station and Gilroy High School. Fireworks start at 9:30pm; last 68 bus to San Jose leaves at 10:30pm. As an alternate, consider viewing the fireworks from the Gilroy Caltrain station by looking southbound.
San Jose
Here's info on one San Jose fireworks display accessible by VTA bus and light rail service. We also have info on a Fourth of July parade on The Alameda you can get to by VTA bus, that morning. Details are below.
Children's Discovery Museum (Downtown)
VTA has announced it will run additional light rail service with extra cars to support the fireworks show in downtown San Jose. That show will be in the meadow of Children's Discovery Museum at 180 Woz Way, starting at 9:30pm.
Rose, White, and Blue Parade (The Alameda)
Starting at Lincoln High School and running along Dana Ave., Naglee Ave., and The Alameda is the return of the Rose, White, and Blue Parade. The parade runs from about 9am with the nearby festival running until 3pm.
VTA's 22, 61, and 522 Rapid bus lines take you close to the festivities. Be advised that all three of these bus lines will be detoured from 6am-5pm July 4 to accommodate the festival, including setup and cleanup.
Santa Clara
Great America will have its annual Fourth of July celebration on Monday, complete with an "all you can eat" backyard cookout. As with the fireworks in downtown San Jose, VTA will run extra service with additional cars to support crowds going to and from the fireworks.
Conclusion
This Fourth of July, make sure to allow professional fireworks handlers to provide entertainment and shows. Don't try to handle fireworks yourself; you just risk getting injured. Only call 911 if you or someone you know is experiencing a life-threatening emergency.
Also, the transit tips in this guide are a good, safe alternative to driving in traffic. Especially if you have been drinking alcohol as part of the Fourth of July celebrations.
This is just one of many jurisdictions within Santa Clara County that will step up Driving Under the Influence (DUI) enforcement. Please don't drink and drive.
More coming up soon. Let's see you back this coming Tuesday, safe and sane.
Eugene Bradley
Founder & CEO, Silicon Valley Transit Users