Several events are going on in Silicon Valley this weekend. All of these major events are accessible via Santa Clara Valley Transportation Authority (VTA) buses and light rail.
There are other public transit news items of note; they will be noted later in this article. More information on it all is below.
VivaCalle San Jose (November 7)
On Sunday from 10am-3pm, the VivaCalle San Jose walking and bicycling event will take place. This event will allow you to you to walk and bike on the streets of Bird Ave., Minnesota Ave., W. Alma St,. and Keyes, It's designed to let you explore more of these areas that are often missed when traveling by automobile.
Get to VivaCalle San Jose on Sunday by riding VTA's 25, 64A, 64B, 68, and 73 bus lines to and from the event.
Note that VTA will detour the 73 bus line around VivaCalle San Jose in the area around Senter in San Jose from 6am-4pm on Sunday.
San Jose Sharks and Barracuda Hockey (November 6)
The first of many hockey doubleheaders takes place at SAP Center in San Jose on Saturday. At 1:15pm, the San Jose Barracuda host the Texas Stars in American Hockey League action. At 7:30pm, the San Jose Sharks host the New Jersey Devils in National Hockey League action.
Our transit guide to SAP Center in San Jose shows you many VTA bus, light rail, and Caltrain service options to help you beat traffic and parking hassles to and from the games.
49ers Football (November 7)
On Sunday at 1:25pm, the San Francisco 49ers host the Arizona Cardinals at Levi's Stadium at 1:25pm.
This VTA guide for transit to Levi's Stadium lists several VTA bus and light rail service options to and from the game.
Be advised: VTA light rail service to and especially from the game will have fewer cars than usual due to a parts shortage stemming from the ongoing supply chain crisis. Here's what they had to say about Sunday service to and from the game: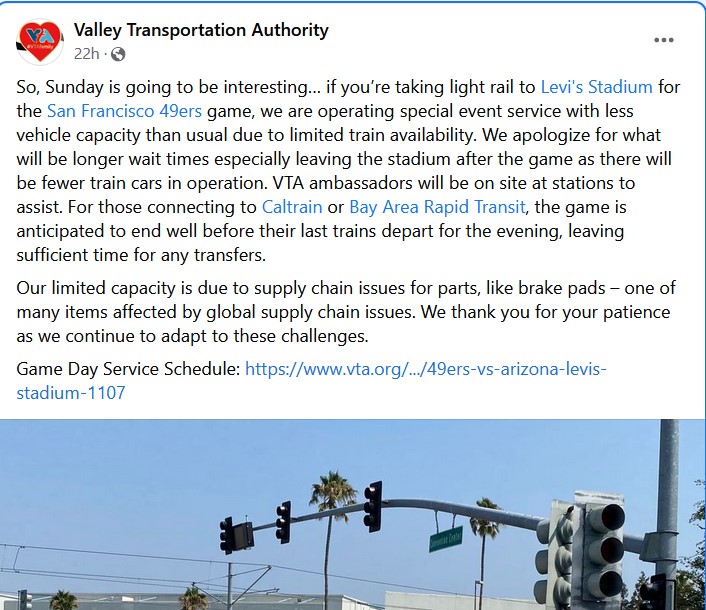 If you normally take VTA light rail on Sunday, it's best to leave up to 30 minutes earlier than you normally travel. This way, you guarantee yourself a seat aboard, and will be able to travel safely.
Earthquakes Soccer (November 7)
The San Jose Earthquakes host FC Dallas in the final game of the 2021 season at PayPal Park in San Jose.
Our transit guide to Earthquakes soccer matches at PayPal Park shows you the VTA bus and Caltrain options to help you beat traffic and parking woes to and from the match.
In Other News…
Our own Monica Mallon now has her own column debut in San Jose Spotlight.  Her column is published on the first Thursday of every month – the same schedule VTA Board meetings are held.  Read Monica's first column below.
The November 4 edition of the Silicon Valley Business Journal reported that VTA will be going to court against the Chase Bank building in downtown San Jose. The purpose is to use eminent domain to acquire their properties for the BART extension into downtown San Jose.
Conclusion
More news will be posted here this week. Enjoy, and have a nice and safe weekend.
Eugene Bradley
Founder & CEO, Silicon Valley Transit Users