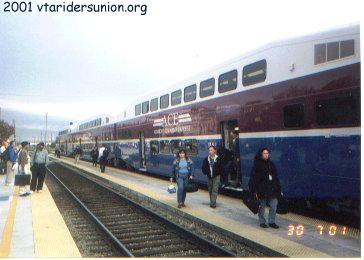 Commuter rail service between Stockton and San Jose returned to service today. This after mudslides in the Niles Canyon area forced the Altamont Corridor Express (ACE) to cancel all rail service between Stockton and San Jose in both directions last Wednesday.
More from ACE on how train service returned today:
ACE will resume normal operating service on all morning and evening trains on Monday, January 23, 2023. In addition, Union Pacific will operate ahead of all ACE trains for track inspection.

https://twitter.com/ACE_train/status/1617279654678900736
One other result of last week's ACE service cancellations, unadvertised: business shuttle buses serving job sites from the Great America ACE station in Santa Clara were also cancelled. That shuttle bus service also returns today.
Follow @svtransitupdts on Twitter for the latest Santa Clara County public transit updates and tips. Here's how YOU can help update us and others on any transit service delays on Valley Transportation Authority (VTA) buses, ACE, or Caltrain you encounter.
More later today…
Eugene Bradley
Founder, Silicon Valley Transit Users