This weekend in the South Bay features events such as Bay to Breakers in San Francisco, an art festival in Los Altos, and a hockey playoff viewing party in San Jose.  To that end, here are public transit options to and from these events, to help you beat traffic gridlock and parking woes. Details follow…
Bay to Breakers
Early Sunday morning, the annual Bay to Breakers footrace in San Francisco takes place. The race starts at 8am on Howard and Main near the Embarcadero. The race course ends at the Great Highway off Lincoln Way near Ocean Beach. Racing in the Bay to Breakers this year? Make sure to follow race instructions to reach the starting line in time.
Caltrain will have special early morning express service from Palo Alto and San Jose to 4th/King in San Francisco. At 4th/King, walk 1.4 miles to the starting area.
Private shuttle buses will be available between the Millbrae BART/Caltrain station and the starting line. The buses leave Millbrae for the starting line at 6:30am. The buses return from the finish line to Millbrae starting at 11:30am. Other shuttle buses take you back to downtown San Francisco at the starting line, or the Embarcadero BART station.
San Jose Sharks Viewing Party
On Sunday at 5pm, the San Jose Sharks will host a viewing party of Game 1 of the Western Conference Finals vs. St. Louis at SAP Center at San Jose. The game will be shown on the scoreboard "big screens" above the ice. Tickets to the viewing party have already been sold out.
SAP Center, at 525 W. Santa Clara Street in San Jose, is a 5 minute walk from San Jose Diridon Station. Diridion Station is served by Caltrain, ACE, Amtrak, as well as VTA light rail and several bus lines. Our transit guide to and from SAP Center details these transit options and how to use them to beat parking woes and traffic.
Fine Art In the Park (Los Altos)
On Saturday and Sunday, from 10am-5:30pm, Fine Art in the Park takes place at Lincoln Park in Los Altos. From its description:
Each year, the Los Altos Rotary Club presents Fine Art in the Park – one of the Bay Area's premier open-air art shows, featuring original, juried works by some 170 artists. Fine art pieces range from paintings and sculpture to ceramics, jewelry and unique gifts. Entertainment, food and beverages make this an ideal occasion for shopping and family fun.
Free shuttle bus service to and from Lincoln Park will be available at Los Altos High School at 201 Almond Avenue. VTA's 40 bus line stops about a 5-10 minute walk away, at N. San Antonio Road and Almond Avenue.
For More Information…
I will be at the Sharks Viewing Party in San Jose Sunday afternoon.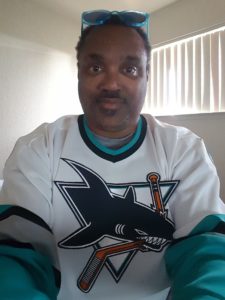 Follow @svtransitupdts on Twitter for transit updates to and from these and other events throughout the South Bay. Transit reports from BART, VTA, and other transit agencies from transit riders like YOU are reported daily. Here's how YOU can help report these events.
Stay safe and have fun on the buses and trains!
Eugene Bradley
Founder, Silicon Valley Transit Users