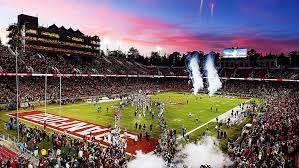 The Big Game is at Stanford Stadium today – pandemic and all. At 4pm today, Stanford hosts Cal in the annual Big Game for The Axe at Stanford Stadium at 4pm.
Our transit guide to Stanford Stadium details Caltrain, VTA rapid bus, and SamTrans bus options to and from today's Big Game.
Meanwhile, in San Jose, there is a pro hockey doubleheader today. At 1:15pm face-off time, the San Jose Barracuda host the San Diego Gulls in AHL action. Afterward, at 7:30pm, the San Jose Sharks host the Washington Capitals in NHL action.
Our transit guide to SAP Center mentions VTA bus, light rail, and Caltrain transit options to and from the games.
When used, all of these bus and rail options help you beat traffic, parking headaches, and potential road rage incidents to and from the games.
Not sure how to ride and pay fare on VTA buses or light rail? There's a guide for that, too.
Have a nice day, and stay safe. More tomorrow…
Eugene Bradley
Founder & CEO, Silicon Valley Transit Users