1.
conventional
requirements
as
to
social
behavior;
proprieties
of
conduct
as
established
in
any
class
or
community
or
for
any
occasion.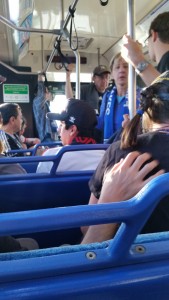 Background
Buses and trains remind us that we have a grand civilization. Mass transit, when planned correctly, is efficient and environmentally friendly. By helping to reduce traffic, it also benefits those who don't use transit at all.  Transit does not segregate by gender, race, or any other social status.  As a society, working together, we create mass transit systems that benefit everyone. No one person or group can do it alone.
Yet, it only takes one misbehaving person to ruin the pleasant rides of everyone aboard a bus or train.
This guide is based on an article in the Oakland Tribune from 2005. It was created in the hopes of mildly improving the mood of the entire San Francisco Bay Area. In particular, it's a request for better etiquette on Santa Clara Valley Transportation Authority buses, light rail, Caltrain, cable cars, and any other means of public transportation anywhere.
At Train Stations and Transit Centers
At ticket turnstiles, Clipper Card readers and ticket vending machines, don't block the lines while searching for your ticket, fare money or Clipper Card. Instead, stand to the side while you gather what you need, and enter the line from the rear afterward.
If you must smoke or "vape" whatever product you have, do so as far away from others as possible, preferably "downwind" from other passengers.  While you may think your smoke is cool, that smoke may trigger respiratory problems for your fellow passengers.  Be considerate of others. Remember: you are at a public transportation stop.
On escalators, stand to the right so people can pass on the left as needed. Also, avoid being in the way of people trying to exit using escalators, stairs, elevators, turnstile gates, or doors. Even if you are not in a hurry, someone else is. When you stand right in front of the bus or train doors as they open, you slow down the entire system. Stand to one side and you'll get on sooner, meaning the bus or train leaves the station or stop sooner and on time.
Aboard the Bus Or Train
Let seniors, disabled people and pregnant women board first and allow them the front seats, by the door if possible.
When boarding, move the rear or center of the bus or train car. This helps reduce crowding at the door(s).
Especially if it's rush hour, don't take up more space than you must. One way to make space: put your bag or backpack between your legs, instead of wearing it. If possible, put your bag under the seat to make more space.
On rainy days, make sure your umbrellas aren't dripping on another rider or on other seats. Put your umbrella between seats, or under the seat if possible.
One person. One fare. One seat. Even on crowded buses and trains, some people sit in the aisle seat, while leaving the window seat empty.  This needlessly challenges other riders to ask to sit down. Worse, it's a rude way to claim unwarranted extra space aboard a bus or train. To resolve this, simply say "Excuse me, please!" as you wriggle into that window seat.
As we are all stressed out at times, it's tempting to get into a verbal dispute with a bus driver – particularly over how much fare to pay and how.  When such a dispute occurs, calmly ask the driver to clarify the situation.  Screaming and swearing at the bus driver resolves NOTHING.  Ask the bus driver how he or she is doing – they may be going thru personal issues that can be resolved thru talking.  If calmness won't settle the dispute, one solution is to pay the full adult fare (if possible), write down the bus driver's badge number, and write to VTA about the incident.  Alternately, leave the bus and wait for the next bus, if possible.  Don't needlessly stop others from arriving by bus on time with verbal disputes.
Using Your (Smart) Phone on Transit
First of all: DON'T YELL! There is a way to use your cell phone or smart phone politely when other people are trapped next to you. You can make very short, urgent calls while cupping your mouth and the receiver with your hand. "Did Dad get to the hospital all right?" "I'm on the train, so you can pick me up at seven."
Are other people are so close that they can't escape your voice? Do not blather loudly and at length. People should not have to wear earplugs or headphones to avoid invading your privacy. Want people to mind your business? Don't broadcast your business aloud on buses or trains.
If your phone reception is bad or your phone won't transmit a quiet voice well, don't make or answer the call. If possible, send a text message instead.  Better yet, wait until you get off the bus or train before you make or answer that phone call.
Also, your smart phone (or digital music player) is not a boom box.  Use headphones or earbuds when listening to your music. When doing so, make sure you don't increase the volume such that it disturbs other people. While you may think "cranking it up" is cool, other people won't. Worse, you risk long-term hearing loss when listening to music thru headphones or earbuds at full volume.
Minding Your Body Language
Avoid staring at people or at what they are wearing. It makes them needlessly uncomfortable. Consider how you would feel if people stared at YOU for long periods of time.
Men – Fellas – Dudes – Bros – don't spread your legs so far apart that they take up others' physical space. If you can't sit without spreading your legs across more than one seat, then stand instead.
Anyone wearing headphones while riding is a sign that they don't want to be disturbed.  They have a right to listen to what's on their headphone (safely) while riding transit.  (See the last paragraph in the prior section on how to use your headphones safely when on transit.)  Unless it's a life-or-death emergency, and unless you know that person already, leave these people alone.
Letting Other Riders Know About Their Poor Etiquette
"Excuse me" is the perfect and polite request for someone to correct their etiquette. One can always phrase requests in equally polite ways. Example: "Please turn down your music. I can hear it from where you're sitting." "Could you please make room?"  "Please leave me alone."
If the other person reacts with belligerence, or you feel otherwise endangered, you can always ask the driver, conductor, or train operator to intervene. But usually, you will succeed. The mark of someone who's inconsiderate to others: zero consideration of the consequences of their actions. It's borne out of ignorance, not malice, and it's easily corrected.
Conclusion
Remember: this is PUBLIC transportation. Other people are using the system, too. Make sure you aren't making it less useful to yourself and others.  Don't be afraid to speak up if it will make the transit ride comfortable for everyone. We're all in this together.
Eugene Bradley
Founder, Silicon Valley Transit Users