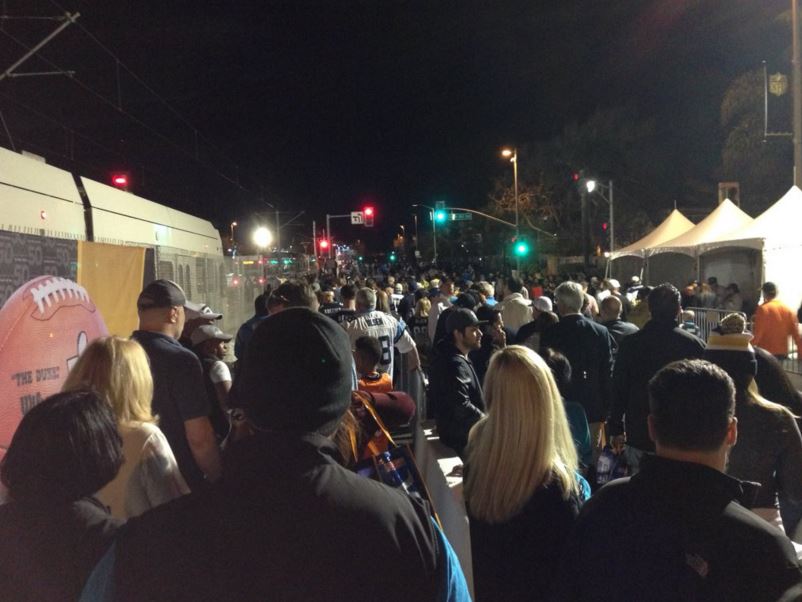 Table of Contents
Background
This guide is created for college and pro football fans in Silicon Valley who want to go to these games without the high cost of driving and gridlock. This guide is created by the Silicon Valley Transit Users, a grassroots group of citizens concerned about mass transit in Silicon Valley. We are not affiliated with any public transit agency, university, private group or professional football organization mentioned in this guide.
Also, we are not responsible for damage to personal property at the event or on any public transit vehicle as a result of this guide.
San Francisco 49ers
View the San Francisco 49ers' current home game schedule. Take special note of all Levi's Stadium security policies – in particular their bag policy.
From San Jose, Silicon Valley, and points elsewhere, there are several public transit options to San Francisco 49ers home games at Levi's Stadium in Santa Clara.
Public Transit
Caltrain
Taking a bus or train to and from Levi's Stadium from the Peninsula, San Francisco or the South Bay? Mountain View serves as the unofficial transit gateway to Levi's Stadium. On any 49ers game day, take Caltrain from San Francisco or the Peninsula to Mountain View.
Caltrain & VTA offering joint Day Pass (to zone 3) @ our ticket machines. Great way to get to @LevisStadium. pic.twitter.com/zwB6lFOIU6

— Caltrain (@GoCaltrain) July 30, 2014
Before boarding Caltrain, purchase a joint Caltain/VTA day pass for an additional $6.00 at any ticket vending machine on all Caltrain station platforms.
In Mountain View, transfer to a VTA light rail train (currently, Orange Line to Alum Rock) to Levi's Stadium. Here's how to make that transfer:
Additional information on VTA bus and light rail service to and from Levi's Stadium is below.
VTA Buses and Light Rail
For 49ers games and other events at Levi's Stadium, the Santa Clara Valley Transportation Authority (VTA) has several bus lines and light rail that stop at or within walking distance of Levi's Stadium. Local bus, light rail, and express bus fares will still apply.
TIP: Look for VTA personnel in yellow vests at key bus stops and rail stations. These personnel will help you use the system to get to and from Levi's Stadium.
TIP: At Levi's Stadium, look for signs and announcements pointing you to where your return bus or light rail train will board at. Look for VTA personnel in yellow vests to help guide you to your return bus stop or light rail platform for your return trip.
Plan on arriving at Levi's Stadium at least two (2) hours before football kickoff or the start of a special event at Levi's Stadium. This lets you beat traffic gridlock and allows time for you to get concessions and then your stadium seat(s).
Capitol Corridor Trains
For riders of Amtrak's Capitol Corridor, Levi's Stadium is a 5-minute walk from the Great America rail station. The nearest stadium entrance for Great America rail station is at Gate F.
Capitol Corridor trains from Fremont, Oakland, Richmond, Davis, Sacramento and Auburn serve Levi's Stadium at the Great America stop. Here's more information from Capitol Corridor about their rail service to and from 49ers games at Levi's Stadium this season.
By Bicycle
Another way you can attend football games and other events at Levi's Stadium is by bicycle. FREE valet bicycle parking is available in Red Lot 1, where the San Tomas Aquino Creek trail intersects with Tasman Rd. near the stadium. This map details specific bicycle trails leading to and from Levi's Stadium.
Elderly and Disabled Access
For access to and from Levi's Stadium from nearby parking lots, nearby bus stops or nearby rail platforms, the 49ers have a mobility assistance team to help elderly or disabled fans. Call (408)579-4610 for details and to make game-day arrangements. Also, this page has more information on Levi's Stadium access for elderly and disabled guests.
San Jose State Spartans
View the current San Jose State Spartans home football schedule.
The Spartans play their home games at CEFCU Stadium at 1257 S. 10th Street in San Jose. Cross streets where the stadium is located are E. Alma Ave. and S. 7th Streets.
CEFCU Stadium is across the street from Solar4America Ice at San Jose, the TechCU Arena (SJ Barracuda) and Excite Ballpark (San Jose Giants). Read our transit guide to these venues for more information on VTA buses that are a short walk from CEFCU Stadium.
Stanford Cardinal
Read the Stanford Cardinal football schedule for this season.
Stanford Stadium is located on El Camino Real at Galvez Street and Embarcardero Road in Palo Alto, California:
Stanford Cardinal home football game times are subject to change, to allow for regional or national television coverage. This will be particularly the case if Stanford is in contention to qualify for a bowl game or the National Championship playoffs.
Read the stadium policy to learn what is allowed and what is forbidden at Stanford Stadium.
From San Francisco, the Peninsula, and San Jose
From San Francisco, the Peninsula, and San Jose, Caltrain has rail service to Stanford Cardinal home games via its special Stanford Stadium stop. The Stanford Stadium stop is a 10-minute walk to and from Stanford Stadium, and is only open on game days and other events at Stanford Stadium. Look for announcements from Caltrain on whether or not they will serve the Stanford Stadium stop on game/event days. Be prepared to travel to and from Palo Alto station for Stanford football games.
Because the Stanford Stadium stop has no ticket machines available, please buy your tickets in advance at the Caltrain station you are boarding from.
As an alternate, and for those of you who use a Clipper Card to pay for your Caltrain ride, the Palo Alto Caltrain Station is about a 15-minute walk south to Stanford Stadium. Use that station to and from Stanford Stadium if you have a Clipper Card.
From Santa Clara County
From Los Altos, Mountain View, Sunnyvale, Santa Clara, and San Jose, VTA's 22 local and 522 Rapid buses stop within a 5-minute walk of Stanford Stadium, at El Camino Real and Embarcadero Road.
From San Mateo County
From San Mateo County, SamTrans buses like the ECR end at the Palo Alto Caltrain Station. From there it is only a 15 minute walk south to Stanford Stadium off El Camino Real & Embarcadero Road in Palo Alto.
Conclusion
We hope you enjoyed this transit guide. Want additional information on bus and train options to football games at other colleges in Silicon Valley? Please let us know.
Eugene Bradley
Founder & CEO, Silicon Valley Transit Users