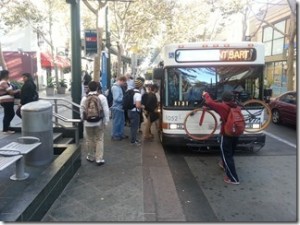 Huge changes to your bus and light rail service in Santa Clara County will be discussed this week.  At Thursday evening's VTA Board of Directors' meeting, the Board members will further discuss what VTA staff proposed under the "Next Network" transit service restructuring proposal.
If you haven't done so already, read up on VTA's "Next Network" proposal.  Learn whether or not it may be made harder for you to reach your job, school, or doctor by public transit in Santa Clara County this fall.  This is especially true if you live in Gilroy, Morgan Hill, Almaden Valley, or some parts of Palo Alto, Mountain View or Sunnyvale.  This is also true if you take any of the VTA express buses from Fremont, as they are proposed to be eliminated when BART opens in December.
Will the "Next Network" make it harder to you to use public transit in Santa Clara County? If so, come and speak up in San Jose on Thursday…
DATE & TIME: Thursday, March 2 @ 5:30pm
PLACE: County Supervisors' Chambers, County Government Center, 70 W. Hedding Street, San Jose
GETTING THERE: The Government Center is one block north of Civic Center light rail station. Ride
VTA light rail or the 61, 62, 66 or 181 express bus lines to Civic Center station.
Plan on driving to the VTA Board of Directors' meeting? Just before 5:30pm, you can park for FREE at the parking meters in front of and across the street from Government Center. If possible, avoid parking in the County parking lot across the street – you may be towed.
The discussion will take place under Consent Agenda Item 6.15.  You can vote to have that taken off that agenda and discussed during the public meeting.  Here's how to be heard at any VTA Board Meeting or Workshop.
Your voice will be especially needed if you voted on VTA's "Measure B" last fall hoping for better transit, only to learn VTA proposes to end your bus route this fall.  Dependent on VTA "ACCESS" services?  Your fare could go up to $16/trip in areas near where VTA will end bus service.
Our group sent a letter to VTA expressing our concerns and suggestions for their "Next Network" proposal.  Worth addressing at Thursday's meeting:
Having timed bus-to-bus transfers to enable access between proposed "frequent" buses and "infrequent" bus lines that will run every 30-60 minutes
Working with communities to provide smaller buses that shuttle around historically-low ridership areas like Gilroy via "on-demand" service.  One example of such a service exists in Monterey County, with MST On-Call.
A question on what VTA is doing to attract new transit riders when and if the "Next Network" is approved.
Can't make Thursday's VTA Board of Directors' meeting?  Contact the VTA Board Member who represents YOU.  Let him or her know how to make VTA better for everyone.
See you on Thursday.
Eugene Bradley
Founder, Silicon Valley Transit Users