Hotel 22 Trailer from Elizabeth Lo on Vimeo.
The Santa Clara Valley Transportation Authority (VTA)'s 22 bus line runs 24 hours a day, 7 days a week, 365 days a year. It is Santa Clara County's only 24-hour public transit service. Because of this, the 22 bus line is infamously known as a place where homeless people who can't obtain proper shelter end up sleeping overnight. As a result, this bus line is known amongst the homeless population as the "Hotel 22."
More on the increase in homeless people on additional VTA bus lines and light rail – and what can be done to end homelessness in Silicon Valley – follows.
History Of Santa Clara County's Homeless and the 22 Bus
Several stories have been written about the "Hotel 22" over the years. Besides a Mercury News story on the "Hotel 22" in October 2013, other Mercury News articles about the "Hotel 22" were written in 2008 and in 2003. "Hotel 22" has even garnered worldwide media attention from as far as the United Kingdom.
There are over 7,500 homeless people in all of Santa Clara County, according to the 2014 Annual Homeless Assessment Report to Congress (AHAR) from U.S. Department of Housing and Urban Development (HUD). Further research from the 2014 AHAR (Adobe PDF document) revealed that 75% of the County's homeless population is staying in unsheltered locations – the nation's highest such rate. When there is no more room underneath a bridge, inside a car, or at an abandoned building, VTA"s 22 bus and even light rail is a last refuge for the homeless.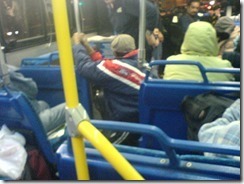 Photo from VTA Watch
More Homeless Riding More Buses – and Light Rail
Group member Judy Purrington of San Jose reported on our Facebook page on an increase of homeless people riding VTA buses and light rail. These increases are easily traced to the recent closure of "The Jungle" – a homeless camp created during the "dot-com" crash in 2000:
Since the homeless were so unceremoniously booted from The Jungle a couple of weeks ago — many without their tents and most of their possessions; you don't have to look far. I often take the light rail and the 68 bus early mornings, daytimes, and evenings; and the homeless are there in noticeable numbers.
Homeless people in southern Santa Clara County typically take the 68 bus line to Gilroy, then likely walk or take the 19 Community Bus line to the Gilroy National Guard Armory at 8490 Wren Avenue. At the Armory, 100 nightly beds are available, with the Armory shelter operating from 6pm-6am. The 68 bus line typically ends at midnight, and is the only daily local bus line linking Gilroy and San Jose. A case can also be made about a "Hotel 68" and possibly a "Hotel 19" in addition to the "Hotel 22" mentioned above.
What Action Is Being Taken?
In an effort to observe and address the issue of homeless people sleeping on buses, San Jose City Councilmember Ash Kalra – who chaired the VTA Board of Directors in 2014 – recently took a trip aboard the 22 bus line. Kalra was accompanied on his trip by several outreach workers from HomeFirst:
Thanks @HomeFirstSCC outreach workers for joining me on @VTA 22 bus tonight. They're definitely good at what they do. pic.twitter.com/mSBFIwF65z

— Ash Kalra (@Ash_Kalra) December 23, 2014
With the closing of the Sunnyvale Armory as a major homeless shelter, there is a scramble to find additional shelters and beds to make up for the 136 beds now lost. According to the Mountain View Voice, 124 subsidized housing units for the chronically homeless are being built on the Sunnyvale Armory site. The units, now under construction, are located at 620 E. Maude Avenue, and accessible via the VTA's 26 and 55 bus lines.
While Councilmember Kalra's recent action is noble, far more must be done by everyone to help end homelessness in Santa Clara County.
Government-based Solutions
The Santa Clara County Office of Housing and Homeless Support Services (OHHSS) provides oversight for the HUD Housing Program for Homeless Services. The OHHSS supports and administers the following programs:
HUD Housing Program for Homeless Addicted to Alcohol (HHAA)
HUD Mental Health Permanent Supportive Housing Program
Shelter Plus Care Program
Cold Weather Shelter Program (CWSP)
Uplift County Share Contract
Outreach & Engagement of Homeless Individuals
Biennial HUD Mandated Homeless Count/Survey Contract
California MHSA Housing Program
This is in addition to the homeless programs managed by your local city or town. Please check your local city hall or town hall for the name and contact information for these programs.
Private Solutions
To make up the difference in lack of housing programs for the homeless, there are private organizations as well. These organizations include but are not limited to:
Many of these organizations work with the Santa Clara County government to provide solutions for homelessness.
What Can I Do To Help End Homelessness?
Learn how you can support these public and private organizations to end homelessness in Santa Clara County. (See links listed above for more details on these programs.) Look initially for programs that provide temporary "cold weather" shelters in the winter and rainy season. Also, consider programs that provide permanent housing, job training and careers, and child day care for those who legitimately and willfully request these services.
Learn about and support local city or town-based programs that provide services to legitimate homeless people. A good start for such programs are the city halls and town halls where VTA Board of Directors' members are from.
Find and support programs that help the homeless reconnect with family members who are willing to help them out. Any member of the homeless is related to someone – maybe even someone you used to know.
Find and join a program which allows someone who is homeless to stay in your home – even for a night. I had a Twitter conversion with someone from HomeFirst about this idea. This is what they had to say:
There is much that needs to be done about homelessness. Together, we can help do something for those who legitimately want and need to be productive, independent, and off the streets. By ending homelessness on VTA buses and light rail, we can help restore their rightful status as solutions to gridlock, not solutions for housing.
What other suggestions do you have for helping the homeless in Santa Clara County? Please discuss this issue.
Eugene Bradley
Founder, Silicon Valley Transit Users
Disclaimer: Here's how I am personally doing my part to help end homelessness. On my day job, I help run web servers that help inform "active duty" and former Military Service Members and their families of benefits and programs. Knowledge and use of these programs helps reduce the population of homeless veterans on our streets.