This is your 2011 Labor Day Weekend Transit Update. It's your Santa Clara Valley Transportation Authority (VTA) and Caltrain guide to events this weekend like the opening weekend of college football at Stanford and in San Francisco. In addition, the update has public transit information and tips for events taking place this weekend like:
San Francisco Giants & San Jose Giants Baseball
Identity Festival in Mountain View
"Islamic Science Rediscovered" at the Tech Museum in SJ
Specific details are below. Note that many public transit services will be running on a Sunday (Holiday) schedule on Monday to honor Labor Day.
College Football Opening Saturday (September 3)
The 2011 college football season opens with two big games in the Bay Area. Both games are accessible by VTA buses and/or Caltrain, as an alternate to driving in the expected gridlock.
The first game, kicking off at 2pm, is the "Bill Walsh Legacy Game" between San Jose State and Stanford in Palo Alto. VTA's 22, 35 and 522 Rapid bus lines all stop within walking distance of Stanford Stadium. Also, Caltrain will have several runs stop at the special Stanford Stadium stop before and after the game. More information is available specifying these transit options.
NOTE: for this and all Stanford home games, VTA will reroute the 22 and 522 Rapid bus lines in Palo Alto via Alma Street between the Transit Center and Page Mill Road in both directions. The rerouting will occur before and after all Stanford home games, to avoid traffic gridlock and to speed up both bus lines.
The second game, kicking off at 4pm, takes place at Candlestick Park between Fresno State and Cal. Here are details on special express bus and Caltrain service to the Cal Bears "home opener."
Baseball in San Francisco and San Jose
In San Francisco, the Giants have a huge 3-game series vs. Arizona. The Giants host Arizona Saturday night at 6:05pm and Sunday at 1:05pm. As always, Caltrain has special service to and from both games at AT&T Park – only 1 block north of Caltrain's 4th & King terminal.
In San Jose, the (Class A) Giants host the Bakersfield Blaze Saturday at 6pm, Sunday at 5pm and Monday (Labor Day) at 2pm. All games take place at San Jose Municipal Stadium at Alma and Senter in San Jose. Check out details on how you can take VTA's 25 and 73 bus lines to the games.
Identity Festival in Mountain View
We learned recently that there will be a shuttle bus for IDENTITY Festival attendees from the Mountain View Transit Center to Shoreline Amphitheater for today's IDENTITY Festival. The shuttle leaves the Transit Center at 12:52pm (timed with the arrival of all Caltrain & VTA light rail). The shuttle will return from Shoreline Ampitheater to the Transit Center at 10:25pm, to allow for connections to the last Caltrain and VTA light rail runs for the night.
Fare for the shuttle is $4 each way.
"Islamic Science Rediscovered" at The Tech Museum
Starting today (September 3), The Tech Museum of Innovation in downtown San Jose begins hosting a limited engagement exhibit. The exhibit, "Islamic Science Rediscovered" covers long-forgotten contributions by Muslims in science and technology.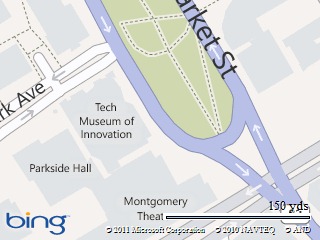 The Tech Museum of Innovation is at 201 S. Market Street (corner of Park Ave.) in downtown San Jose. It's a 1-block walk from the Paseo de San Antonio and Convention Center light rail stations.
REMEMBER:
Use this page to obtain the latest VTA and Caltrain schedule and fare information. Try to have exact change and most importantly, proof of valid fare before you board light rail or Caltrain, to avoid being fined by fare inspectors.
Have a nice weekend! Enjoy yourself at these and other events, and STAY SAFE!
Eugene Bradley
Founder, Silicon Valley Transit Users