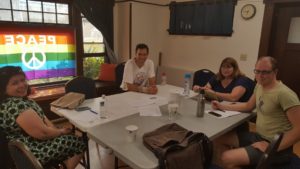 Please join us at our next meeting on Tuesday, August 30 at 6pm in San Jose.  At our upcoming meeting, we will discuss:
VTA's "Next Network" bus restructuring proposal and what can we can do to maintain bus service in Santa Clara County
Whether to support or oppose "Measure B" – VTA's latest transportation sales tax proposal
Other ideas you have that you are willing to work together with us on
Here are directions to the San Jose Peace and Justice Center, where we meet most every month.  Note that the Peace and Justice Center has wheelchair access.
Can't make our meeting in downtown San Jose on Tuesday?  Contact our group to get a dial-up phone number for our meeting.
See you Tuesday night.
Eugene Bradley
Founder, Silicon Valley Transit Users