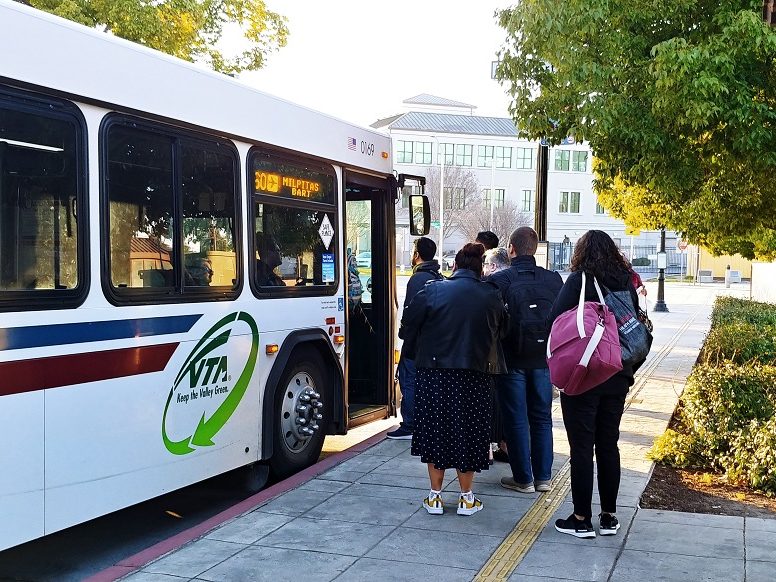 We're now in the holiday season leading up to the New Year. This means people are going out shopping in malls for holiday gifts. Some people and families are traveling to other cities, in other states. All of this helps to create additional automobile traffic on our streets and highways.
Fortunately, we have Transit Guides ready to help you beat traffic and parking woes. They show you how to ride and pay fare on Santa Clara Valley Transportation Authority (VTA) buses and light rail for work, pleasure, or visiting others, as an alternate to driving.
Mineta San Jose International Airport
For instance, our Transit Guide to Mineta San Jose International Airport shows you how the 60 bus connects with Caltrain and other trains in Santa Clara, BART in Milpitas, and three VTA light rail stations to the Airport. There's even tips on how to get to the Airport directly from San Jose Diridon Station, near downtown San Jose
San Jose Diridon Station
Speaking of which: check out our NEW, latest transit guide for San Jose Diridon Station. It shows you how Caltrain, Amtrak, Greyhound, and other rail services stop there. It also shows you connecting VTA bus and light rail service to and from the station. Great for those traveling by intercity bus or train this holiday season.
Shopping Centers and Malls
Want to beat traffic and parking hassles while out shopping? Check out our Transit Guide to Shopping Malls. It shows you VTA bus and light rail service to shopping malls like Eastridge, Valley Fair, Stanford Shopping Center, and the Gilroy Premium Outlets.
World Cup Soccer Viewing Parties
Finally, FIFA Men's World Cup Soccer from Qatar is going on right now, thru December 18. During this time, the San Jose Earthquakes are hosting official watch parties for this global event at San Pedro Square in downtown San Jose.
Our transit guide to Downtown San Jose shows you VTA light rail and bus service that's a 5-minute walk away from San Pedro Square. Other, unofficial viewing parties for World Cup Soccer games are going on in bars and restaurants in places like downtown Mountain View, for instance. We have transit guides that show you how to reach downtown Mountain View by bus or rail, too. Just call the local restaurant or bar to learn when they will open for viewing World Cup Soccer matches.
For Your Safety…
Given this is the holiday season, it also means more robbers are out there. Here are tips to help keep you safe when riding public transit.
Conclusion
There's a lot of activity this holiday season – especially post-COVID and the lockdowns from 2000. Let's be careful out there. Have fun and stay safe.
Eugene Bradley
Founder & CEO, Silicon Valley Transit Users