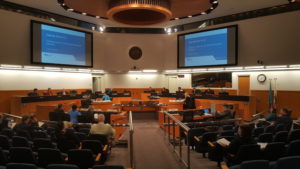 Last month, I wanted to experiment with providing a brief summary of a Santa Clara Valley Transportation Authority (VTA) Board Of Directors meeting.  Your feedback demanded more information be provided for such summaries.  So, in the future, more detail will be provided for such summaries.
That said, the September 7 VTA Board Of Directors Meeting and follow-up workshops revealed a potential conflict of interest in a formed sales tax measure watchdog group. They also confirmed routing for two bus lines, once the BART extension to Milpitas and Berryessa comes online.  Finally, conflict was revealed between VTA and BART over how a tunnel for BART in downtown San Jose should be built.
Detailed information on all of this (in chronological order) is below.
September 7 VTA Board Meeting
Plans To Drop 45 Bus, Have New 500 Bus On Santa Clara St. Stay
At the September 7 VTA Board of Directors' meeting in San Jose, the VTA Board of Directors approved staff's recommendation of dropping the 45 bus line in eastern San Jose, and routing the new 500 bus line along Santa Clara Street between San Jose Diridon Station and the new Berryessa BART station.  This after the VTA Board Of Directors requested staff to investigate improvements for the 45 and routing the 500 along San Fernando instead of Santa Clara Street back in May, when they approved the "Next Network" transit restructuring plan.
While little was discussed about the 45 bus line (especially when VTA donated four former Community Buses to a local Homeless Veterans Housing Facility), there was some concern regarding the new 500 bus line.  Downtown businesses wanted the new 500 to run along San Fernando Street so it would help decrease walking distances to local destinations, and to ease construction impacts for BART Phase II along Santa Clara Street.  VTA staff claimed that having the 500 run along San Fernando Street would add up to two minutes' more travel time, and would eliminate a direct connection with the 522 at Santa Clara and 1st/2nd streets in downtown San Jose
Conflict Of Interest On 2016 Measure B Watchdog Committee
At that same VTA Board Of Directors meeting, Roland LeBrun of San Jose expressed opposition that someone from the Silicon Valley Leadership Group (SVLG) is on the Watchdog Committee.  Mr. LeBrun pointed out that the SVLG represents special interest groups, including engineering and construction firms, that would benefit from 2016 Measure B's implementation.  Recall that the SVLG was the driving force behind many local transit sales tax ballot measures, including 2016 Measure B last November.
Here are the newly appointed members of the 2016 Measure B Citizens Watchdog Committee:
Rose Herrera, former San Jose City Council Member and former VTA Board Of Directors' member
Christine Pfendt, a management consultant for Stanford University
Ed Tewes, part-time consultant for CPS Hr Consulting
Bonnie Packer, currently retired and living in Palo Alto
Christopher O'Connor, Senior Director for Transportation Policy for the Silicon Valley Leadership Group
Edward Von Runnen, retired.  Worked for VTA for over 36 years
Jaye Bailey, currently the Vice President for Organizational Development/Chief of Staff at San Jose State University
No one applied for the Committee who is a retired federal/state/administrative law judge or mediator/arbitrator.
San Jose City Council Chooses BART Tunnel Options
San Jose City Council met to decide options for the BART tunnel along Santa Clara St./Alum Rock Boulevard on September 19.  San Jose City Council Member (and VTA Board of Directors member) Lan Diep gave this account of what City Council recommended…
The San José City Council prefers the west, north, & single bore options. Ultimately, @VTA Board decides.

— Councilor Lan Diep (@SanJoseD4) September 22, 2017
Here is a photo of the north BART tunnel option, courtesy of the Diridon Good Neighbors' Committee: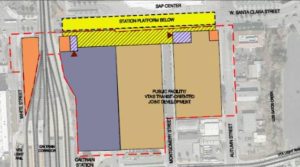 What little kid doesn't like trains? Now as an adult get to sit on the @VTA board & discuss things like train station design. Awesomesauce. pic.twitter.com/G04VHUqSxw

— Lân Diệp (@LTDiep) September 22, 2017
The photo below shows a subway station platform in Barcelona, Spain, built as part of a "single-bore tunnel" build.  The photo is also courtesy of the Diridon Good Neighbors' Committee: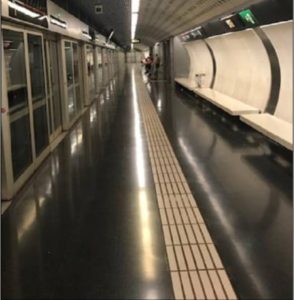 BART, VTA Meet At a Workshop and Conflict
Two stories in the Silicon Valley Business Journal (September 22 and September 29) detail how BART and VTA conflict on the subway tunnel proposal.
According to both stories, BART – who will run the trains – favors the twin-bore option, pictured above, due to its familiarity, operational, and maintenance comfort.  (In fact, the original BART tunnels are "twin-bore.") VTA – who will build the subway tunnel, favors the single-bore tunnel option, claiming it would minimize construction and traffic disruption in downtown San Jose.
The San Jose Downtown Association has more illustration and information on the BART and VTA tunnel build conflict.
Meanwhile, view the September 22 VTA Workshop in its entirety below.
One possible detriment to having a single-bore tunnel station, especially deep underground: transfers to and from other buses or light rail.  One Twitter user from Seattle details this below:
Time and $ of enormous stations are serious. UW station on Seattle's light rail takes FOREVER to get in and out of, making transfers tough. pic.twitter.com/qAUb6SHfhi

— Sheattland (@SEAsheltie) September 20, 2017
VTA will further discuss the tunneling options at its Board Of Directors meeting this Thursday.  One item up for approval: recommendations from VTA Staff for the "west option" downtown San Jose BART station and the "north option" Diridon station.
These recommendations are similar to what San Jose City staff recommended.  The September 29 edition of the Silicon Valley Business Journal mentioned City staff recommended that the "west option" for the downtown San Jose BART station was closer to the city core and creates the most convenient connections with VTA light rail, versus the "east option" at San Jose City Hall and more convenient for San Jose State University students.  The same story mentioned City staff also recommended the "north option" at San Jose Diridion Station would require a shallower station than the "south option" that would require digging below underground parking planned for the 1 million square-foot mixed use Diridion Station project.
The final vote for the VTA Board on the San Jose tunneling option will be January 2018.  More information on that will be published as it becomes available.
At stake in this conflict: $1.5 billion of your Federal tax dollars via the Federal Transit Administration.  The funding may be lost if VTA and BART cannot properly agree on how to tunnel through downtown San Jose.
Your Thoughts
So, what are your thoughts on VTA keeping the new 500 on Santa Clara Street?
What are your thoughts on the conflict of interest on the 2016 Measure B Citizens' Watchdog Committee?
Finally, what are your thoughts on the VTA/BART downtown San Jose subway tunnel conflict?  How can the conflict be resolved?
Please comment on all of this news below.
Eugene Bradley
Founder, Silicon Valley Transit Users