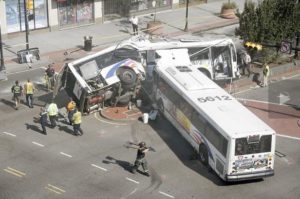 Early Friday morning, two New Jersey Transit buses crashed into each other in downtown Newark, NJ. Two people – including the driver of one of the buses – died as a result of the crash.  Seven bus passengers are in critical condition at a nearby hospital.
According to the Associated Press (AP), investigators are determining whether the bus driver killed in the crash ran a red light.  The same AP report mentioned that the intersection the bus crash occurred was one of the first in New Jersey to feature surveillance cameras that caught red light violators. That surveillance camera program was discontinued in 2014 amid controversy.
Later on Friday, in downtown Palo Alto, a Santa Clara Valley Transportation Authority (VTA) bus jumped the curb and hit some newspaper racks after making a right turn.  While Palo Alto Online reported that no one was , it is rather interesting to note that the driver was allowed to continue the route on another bus.  This is something worth asking VTA, I have never heard of this practice after an incident involving a bus and passengers.
On behalf of the Silicon Valley Transit Users, our condolences go out to the hurt and perished in the Newark bus crash.
Let's all be careful when riding – and driving the buses and trains…
Eugene Bradley
Founder, Silicon Valley Transit Users