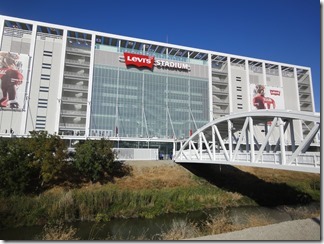 Bus and light rail service to and from Levi's Stadium was received with mixed reviews. On August 2, the first sporting event at Levi's Stadium took place with a soccer match between the San Jose Earthquakes and the visiting Seattle Sounders. While the Earthquakes won the match 1-0, some fans took several hours to get home from the game. I was personally there to observe getting there to – and from – this historic event.
Getting There
From Santa Cruz, I drove to the Evelyn light rail station, parked for free there, and bought a $6.00 Santa Clara Valley Transportation Authority (VTA) day pass. (Given this was the first game, I did not want to risk getting stranded due to excessive traffic as the last Highway 17 express departs San Jose Diridon at 10:55pm.) After buying the $6.00 day pass, I walked to Mountain View Transit Center and went to the VTA light rail platform.
VTA staff in colored vests were on hand to help out those who needed assistance with any transit or fare information to and from Levi's Stadium. One good thing I noticed; when there was no light rail train waiting in Mountain View, they encouraged passengers to use the direct express bus to Levi's Stadium, which I ended up taking.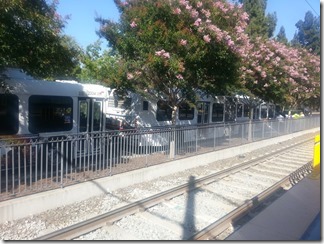 To its credit, VTA used 60-foot articulated buses typically used on the 22 and 522 Rapid bus lines along El Camino Real from Palo Alto to Eastridge Mall in San Jose. As I was about to board the express bus up front, a VTA light rail train arrived about 10 minutes late due to mechanical issues it was having. Not good at all. Fortunately, the bus used Central Expressway, then Scott Boulevard and Great America Parkway to reach Levi's Stadium.
Returning to Mountain View After the Game
I got to the VTA light rail boarding area on Tasman about 20 minutes after the game ended. There I noted the LONG line awaiting to board light rail to either Mountain View or San Jose. So, I started to look for VTA staff in yellow vests to ask about direct express bus service back to Mountain View. Sure enough, I was pointed to the sign pointing to the bus stop for express bus service back to Mountain View. There, several VTA articulated buses similar to what I took earlier were waiting, with hardly any known crowd waiting for them. I boarded the waiting bus along with about 20 other people and left around 10:15pm.
The bus took 45 minutes to return to Mountain View as it was stuck in traffic not only from soccer fans leaving, but from Great America theme park visitors leaving after that park closed. To make matters worse, our bus was stuck behind a tow truck working on a car that broke down around Tasman and Patrick Henry Drive. That area is where VTA is building a pocket track to store extra light rail trains for events at Levi's Stadium. (More on the that project in a separate article.) What made things worse: Tasman Drive was reduced to a single lane in the westbound direction leaving the stadium area, likely due to pocket track-related construction. The express bus used Tasman, Lawrence Expressway, Hwy 237, Hwy 101 and Moffett Boulevard to return to the Mountain View Transit Center.
Overall…
8,327 @VTA riders to/from Levi's Stadium last night. Not a record but big for them. With long post-game lines, VTA says it must do better.

— Mike Rosenberg (@RosenbergMerc) August 3, 2014
Factor that in with the game attendance of 48,765, it means that 1 in nearly 6 fans at the stadium took VTA to and from the game.
While the direct express buses from VTA light rail were good, from my experience, other viewpoints of the transit experience for the first sporting event at Levi's Stadium weren't so good. Samples from @svtransitusers on Twitter:
@dhkeller @VTA we left at 73rd min and barely made first train. But they didn't start running until game end. Line just piled up.

— R. Sowards-Emmerd (@calipidder) August 3, 2014
Service good. Ushers very attentive. In/out of gates quick @LevisStadium. Transportation– we took @VTA and it was 20min to game, 45min home.

— Travis Flora (@Travis_Flora) August 3, 2014
@VTA needs to work on some things before the Niner games start. At what point do ppl walk home? pic.twitter.com/ct0tRcujEm

— Lizzy B Silva (@ebs817) August 3, 2014
Aside from big problems with concessions & some crowd control issues, not a bad 1st event at #levisstadium. #vta bus to & from was great.

— Jim (@jadfoo) August 3, 2014
What VTA and Local Officials Can Improve Upon?
VTA must do better in having its light rail cars and infrastructure ready for large events. Having power go out in a light rail car and then losing air conditioning in the car as fans go to the event is not acceptable. It suggests that proper, proactive maintenance is still NOT being done on VTA light rail cars or infrastructure. It's fortunate the incident did not escalate into something worse.
VTA should place additional emphasis on the direct express buses from light rail stops like Mountain View, Winchester or even Santa Teresa. This is in addition to the express bus service offered to and from Gilroy, Eastridge Mall, and Fremont BART station for stadium events. While staff did a good job emphasizing these direct express buses in Mountain View, that same emphasis was lacking in the lines for light rail from the game. It would have saved
VTA and the City of Santa Clara need to consider exclusive bus lanes along Tasman Drive and Great America Parkway in the Levi's Stadium area. These lanes should only be used before, during, and after events at Levi's Stadium. It will help prevent buses from being stuck in gridlock to and from the stadium area for events.
How Do I Let VTA Know My Levi's Stadium Transit Experience?
In addition to contacting VTA Customer Service, let the VTA Board of Directors know directly at their upcoming Board of Directors' meeting on Thursday. Information on this Thursday's Board of Directors' meeting:
TIME & DATE: Thursday, August 7 at 5:30pm
PLACE: Santa Clara County Board of Supervisors' Chambers, 70 W. Hedding Street, San Jose. The Chambers is a block from Civic Center light rail station, and is reachable via VTA's 61, 62, 66, and 181 express bus lines.
Make sure to learn how to make your voice properly heard at this or any other VTA Board of Directors' meeting before you go.
Who's Responsible For Traffic and Transit Issues At Levi's Stadium?
Nuria L. Feranndez, VTA General Manager. (408)321-5559
Mike Hursh, VTA Chief Operating Officer. (408)321-5680
Jamie Matthews, Mayor of Santa Clara. (408)615-2250
Let's all make the time – not excuses – to ensure traffic and transit issues are done right for future Levi's Stadium events.
Eugene Bradley
Founder, Silicon Valley Transit Users
(all photos not already noted are those that I took.)