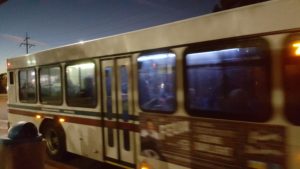 More service cuts to public transit may be coming to Silicon Valley.  The Santa Clara Valley Transportation Authority (VTA) will discuss a proposal to further reduce bus and light rail service at its first Board Of Directors' meeting of 2019 this Thursday at 5:30pm in San Jose.
WHEN: Thursday, January 10 at 5:30pm
WHERE: Auditorium at VTA Headquarters, 3331 N. First Street, San Jose
GETTING THERE: Take VTA Light Rail to the River Oaks station.  VTA's headquarters is on the west (airport) side of N. First Street, in the back of the Park and Ride lot.
Tips for how to be heard at any VTA Board meeting or workshop can be mastered here.
Our group has obtained details on what the VTA Board Of Directors will discuss at Thursday evening's meeting. Details are below.